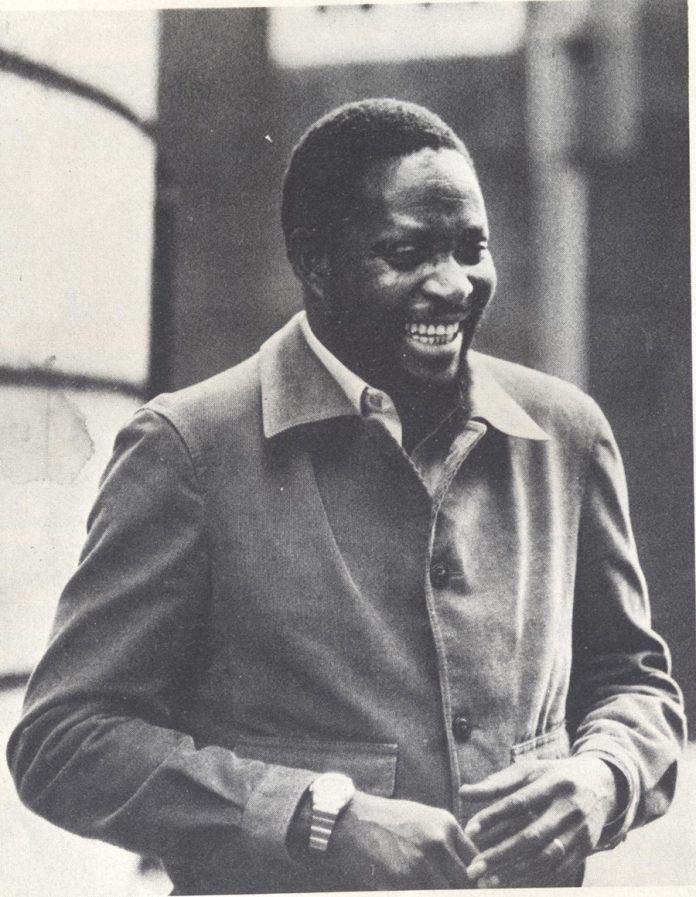 THE most amazing and yet natural thing about the relationship between General Josiah Tongogara (Cde Tongo) and the combatants in Mozambique, was that everyone was in love with Cde Tongo.
This was because he cared so much for each fighter.
I remember learning during the liberation struggle that Cde Tongo had begun his revolutionary activities when he was in his teens.
As a youth, he would not accept the racial discrimination in the country, the injustices of colonialism.
I recall calculating in 1978, that he already had been working for Zimbabwe's freedom for 18 years.
I was awed that he had never really worked for himself.
From his youth, he went straight into the struggle where he dedicated himself, heart and soul, until he achieved his heart's desire, the liberation of Zimbabwe.
When as a youth he left for Zambia in 1960, he had long been steeped in the struggle for Zimbabwe's freedom.
He was looking for ways and means to free his country.
It was a dream come true when he was able to meet up with others of like mind and he was sent for military training in China in 1965.
No-one could have guessed that a star had arisen, the architect of ZANLA and the greatest commander of our revolutionary war had been born.
The name Cde Tongo, is synonymous with patriotism, the greatest love for Zimbabwe.
From when he was a youth to his death, 20 plus years later, he never worked for anything or anyone, except Zimbabwe.
In the liberation struggle, there was no reward, except that you were working for your country.
If you were married, you had no independent means of looking after your spouse.
You had nothing to call your own.
It was a truly communist life, beyond socialism even.
This was the life Cde Tongo lived until the supreme achievement of his life, the liberation of Zimbabwe.
It is humbling to think of this great man, this great freedom fighter, who dedicated his life to Zimbabwe.
Zimbabwe came into being because of the total dedication and sacrifice of many people.
If people of today were dedicated to Zimbabwe in the same measure that Cde Tongo and fellow freedom fighters were, would we not have reached the stars?
Cde Tongo did not allow anything or anyone to stand in the way of his work of liberating Zimbabwe.
A great warrior, a great military strategist, the Rhodesians never knew what hit them until it was too late.
He had the biggest heart of all and we all fitted into his heart.
The 38th Anniversary of the signing of the Lancaster House Agreement which took place on December 21 1979 comes just five days before the most untimely, tragic death of this most illustrious son of Zimbabwe, Cde Tongogara.
The signing of the Lancaster House Agreement was a culmination of years of arduous struggle.
It was his victory, the victory of ZANU and ZANLA, ZAPU and ZIPRA, the victory of each mother and father who protected and nourished the combatants materially and spiritually, the victory of each chimbwido, mujibha, and chigubhu (little boys and girls sent on errands by the freedom fighters).
Cde Tongo had just wrapped up the liberation of Zimbabwe, the work he had dedicated all his life to from when he was just a teenager, when he was called home, tragically in a road accident, on his way to Chimoio to inform his forces personally, what had transpired at
Lancaster.
When he came back from Lancaster, instead of flying straight to Harare as had been originally planned, he changed the plans such that before he flew to Harare, he would first talk to the combatants personally about Lancaster.
It was his way, the way of love, the way he had always related to the combatants.
That they should hear from their Chief of Defence was his greatest desire.
He wanted to do it personally with the same closeness that existed between him and his fighters.
It was a tragedy no-one could fathom.
I had never seen grown men weep, until Cde Tongo's death.
We were devastated.
Our enemies thought this was our end, but they did not understand.
They underestimated the work of ZANU and ZANLA which had brought the British to their knees, negotiating terms of surrender at Lancaster.
They underestimated the achievements of Cde Tongo's years in the liberation struggle.
A British journalist passed through Maputo on his way to Rhodesia soon after the death of Cde Tongo.
He told us it would take four miracles for ZANU to ascend to power.
First, he said, ZANLA would have to agree to get into Assembly Aoints, a near impossibility in his estimation.
He was convinced Cde Tongo's death would make that impossible.
Second, a miracle was needed for Zimbabweans to vote peacefully, something he thought almost impossible given the highly militarised situation in the country and the mistrust among the various political and military groups.
The third miracle that would be needed was that ZANU would win with a big enough majority to form
Government by itself. He was convinced this was not likely because of the 20 seats reserved for whites in the Lancaster House Agreement, the power and influence of Abel Muzorewa, the power and influence of ZAPU.
The fourth miracle needed was that the Rhodesians and the British would accept the results if ZANU won with an overwhelming majority, he concluded.
On his way back from Rhodesia after the elections, the journalist was in a state of shock.
All the 'miracles' had taken place.
Cde Tongo worked tirelessly since his teens and his untimely death did not rob him of the achievements he had sacrificed and dedicated all his life for.
ZANLA did go into Assembly Points, the masses whom Cde Tongogara and ZANLA had most ably educated voted peacefully under the most difficult circumstances, the party he had worked for, ZANU, won with a big enough majority to form a Government on its own, though it chose to join hands with ZAPU.
The Rhodesians wanted to reject the results as not free and fair, but Margaret Thatcher's Government would have none of it.
It had seen the writing on the wall.
Cde Tongo won.
He triumphed as a supreme commander, and though we wanted him home with us, we were consoled that death did not steal the victory he had achieved with so much love and sacrifice.
Cde Tongo left us a legacy we will always be proud of; a legacy of love for Zimbabwe.
He left us an example of what it means to be patriotic, and we say thank you comrade.
We promise you we will teach young Zimbabweans to be patriotic so that they can complete the work you began, years ago, that they too will understand: "Nyika yedu yeZimbabwe ndimo matakazvarirwa," your song with which you trounced our hearts forever.