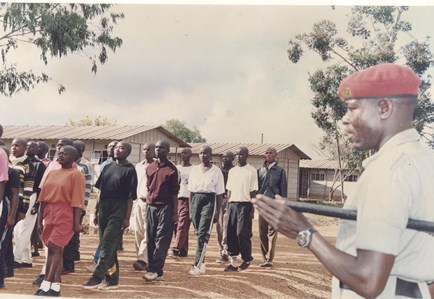 SCHOOLS opened early this week, but some parents in Bulawayo and other cities did not send their children to school for the simple reason that they did not want them to recite the National Pledge.
Most parents argument was that it violated Chapter 4 section 60 (2) of the Constitution.
The section says: "No person may be compelled to make an oath that is contrary to their rights or belief," as well as Chapter 2 Section 19 Subsection (3) (b) which says the state must take appropriate measures to ensure that children are not required to perform activities that place at risk their morals and or spiritual development.
While Zimbabweans in general have every right to defend their rights, it is disturbing to note that this is a national exercise that is supposed to instill patriotic values in our children.
It is sad to note that most parents in Bulawayo and other parts of the country have sent their children to schools in countries like the US, India, South Africa which have similar pledges and the children are compelled to recite these pledges in foreign countries.
Now that we want to pledge allegiance to our country the same parents see everything wrong with the National Pledge.
The National Pledge was necessitated by our history of resistance of colonial and imperialist domination as Zimbabwe has remained revolutionary in character under the leadership of President Robert Mugabe, so that should be the case against the possibility of misleading the present and future generations about the National Pledge.
However, some parents who want to instill discipline in their children said charity begins at home and they saw nothing wrong with reciting the National Pledge.
My daughter was enthusiastic and reciting it almost daily.
She was looking forward to the launch and had I discouraged her from going to school during the launch of this pledge, she would have hated me for the rest of her life.
The only impediment was she did not know what the words meant.
It is therefore important for the National Pledge be recited in different languages, Tonga, Ndebele and Shona so that it takes national character.
The National Pledge emphasises that in Zimbabwe much has been scored in the past and present.
This is demonstrated by our national shrine where our revolutionary celebrities peacefully rest.
We also have museums and statues and socio economic structures named after our Zimbabwean surviving and late heroes and internationalists who share the same vision as that of Zimbabweans.
These national celebrities are symbols of the values of bravery, gallantry and the African character of sons and daughters of the soil.
They are venerated for their acts of virtue as personalities, professionals, and revolutionaries in their own right.
In the case of Zimbabwe, building on the successes scored by these luminaries requires that this noble idea be translated through the recitation of the National Pledge as well as strengthening the National Youth Service training programme, where our children are taught the true values of being Zimbabwean and have a deep understanding of their revolutionary roots.
The National Pledge has been condemned by some churches for alleged constitutional rights violations by the ruling Government.
But the same Western nations sponsoring the so-called petitions to oppose the National Pledge have more rigid and successful National Pledges which their citizens respect.
Within Zimbabwe, the National Pledge together with a new curriculum to be introduced in schools are meant to 'transform and empower children for nation-building through patriotism, life skills training and leadership development'.
The National Pledge instills in young Zimbabwean children a sense of national identity and patriotism.
While it proposes to unite people above religious and tribal lines, it also promotes wariness of 'foreign influence and intervention' in national politics.
Funny enough though, the opposing view, both inside Zimbabwe and abroad, holds that the National Pledge indoctrinates children to be absolutely loyal to Zimbabwe. What's wrong with that?
The Government has put in place plans to have the National Pledge recited in all schools in order to instill patriotic values to Zimbabwean children.
The country has also devised a new National Youth Service training programme aimed at promoting skills, patriotism and moral education.
It is sad to note that some Christian schools in Bulawayo have blatantly refused their children to recite the National Pledge contrary to the Christian values they claim to uphold.
It is not surprising that some regime change advocates are behind such resistance. For example, another shadowy organisation led by a Reverend Useni Sibanda, a director of the Christian Alliance, which represents 'many' churches has added its voice: "Our children will not recite the National Pledge, we reject it on the on the grounds of our constitutional provisions and our religion."
However, what organisations such as the Christian Alliance ignore is that these children as rightful heirs to the Zimbabwean heritage have every right to know their own history and to participate in the country's economic empowerment programmes as well as defend the sovereignty of Zimbabwe, just like what the Rhodesians did.
Western countries, where these regime change funders come from, have robust National Pledges where their children are required to recite as well as undergo military training before they embark on careers of their choices.
As a result, children are well equipped with the history of their own country and are ready to defend the sovereignty of their countries, yet in Zimbabwe our children are discouraged by these same agents who recited National Pledges and have national service in their countries.
The misconception that the National Pledge is aligned to a certain religion will forever haunt us and make our children less confident and subjected to other people's ideas.