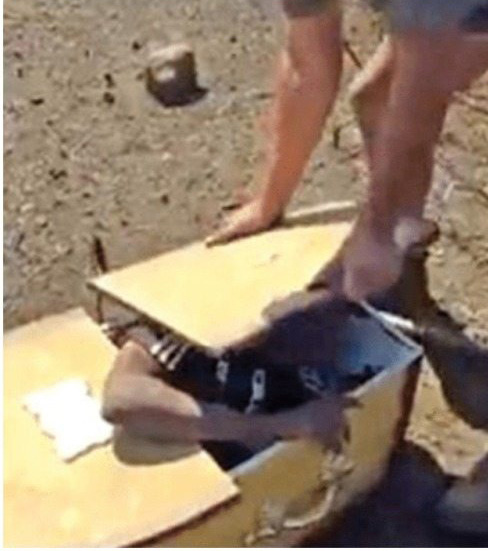 THIS is 2017 and some two individuals — white racist farmers to be specific — abduct a black man, brutally assault him, forcibly put him in a coffin, attempt to douse him with petrol and set him afire in South Africa!
We are in 2017 and this is unacceptable!
Last month, the Middelburg Magistrate's Court sentenced Willem Oosthuizen and Theo Jackson to 11 and 14 years in jail, respectively, for kidnapping, assaulting and intenting to cause grievous bodily harm on Victor Mlothshwa who was taking a shortcut through their farm to his home.
The incident, which took place in August 2016, caught global attention after a mobile phone footage went viral on the internet.
Mlothshwa is seen begging for his life in the widely circulated footage.
They caught and forced him into a coffin.
In the video, Oosthuizen and Jackson can be seen trying to close the lid of the coffin with their boots as Mlothshwa begged for his life.
It is reported: "The men can be heard hurling abuse and threatening to douse him with petrol and set him on fire.
The assault took place on a farm close to Komati power station in Middelburg, a north-eastern town, and spurred national outrage, prompting recollections of the country's racist past."
There is a disease that the world has turned a blind eye on in the recent past.
For too long the world has idly watched as the nagging issues of racism become institutionalised and commonplace.
Now the chronic issue is at our door-step.
This writer is trying to comprehend how black people, for too long, the victims of this demon can be asked to play a part in curbing this demon.
A January 3 2017 article by The Guardian titled 'Barack Obama's original sin: America's post-racial illusion' brings to the fore the many challenges that have been associated with racism in the US and the whole world:
"In the first hours of the new year in 2009, just weeks before Barack Obama was to be inaugurated as the next president, shots rang out in Oakland, California. A transit officer named Johannes Mehserle shot an unarmed 22-year-old black man who lay face-down in handcuffs on a public transportation platform. His name was Oscar Grant.
Dozens of witnesses, many of whom were returning to Oakland after New Year's Eve celebrations, watched in horror. Some captured his killing on smartphones. Shortly afterward, black Oakland exploded in palpable anger, with hundreds, then thousands of people taking to the streets, demanding justice.
Perhaps this outcry would have happened under any circumstance, but the brutality of Grant's death in the few weeks before the country's first black president was to take office felt like a shock of cold water. Police brutality had long been a fact of life in California, but the country was supposed to have entered into a post-racial parallel universe. The optimism that coursed through black America in 2008 seemed a million miles away."
On October 7 2015, the Huffpost spoke to Dr Priscilla Dass-Brailsford, a psychologist at Georgetown University and the Chicago School of Professional Psychology who specialises in ethno-cultural and community violence on the causes of racism.
Dr Dass-Brailsford said racism is as a result of a negative attitude by one towards the other:
"Racism has to do with thinking of oneself as being different from other people. Racists see others as being less than, and think of themselves as being superior. Just as you would have attitudes about anything — about poor people, for example, or immigrants — you have to think about where those attitudes began and how they developed. Was it environmental? Was it upbringing? Was the person born that way? So, there's the age-old debate about nature versus nurture here."
Coming back to the issue of the South African white farmers, Judge Sheila Mphahlele said the two men showed 'no remorse' and that she wanted the sentence to send a harsh message to those in South Africa who still practiced racism. 
"The most appalling act of the accused was to put the complainant in a coffin against his will. While in the coffin they threatened to set it alight. They asked him how he wanted to die — quickly or slowly," she said.
The white farmers claimed they wanted to 'teach Mlotshwa a lesson,' after they came across him trying to steal cables on their farm.
They also claimed he threatened to kill their families and burn their crops. 
On Monday, angry white farmers in South Africa held a demonstration in which they carried the old South Africa flag in defence of their incarcerated colleagues.
Some even burnt the current flag.
And that should surely never happen in any independent African country.
Let those with ears listen.