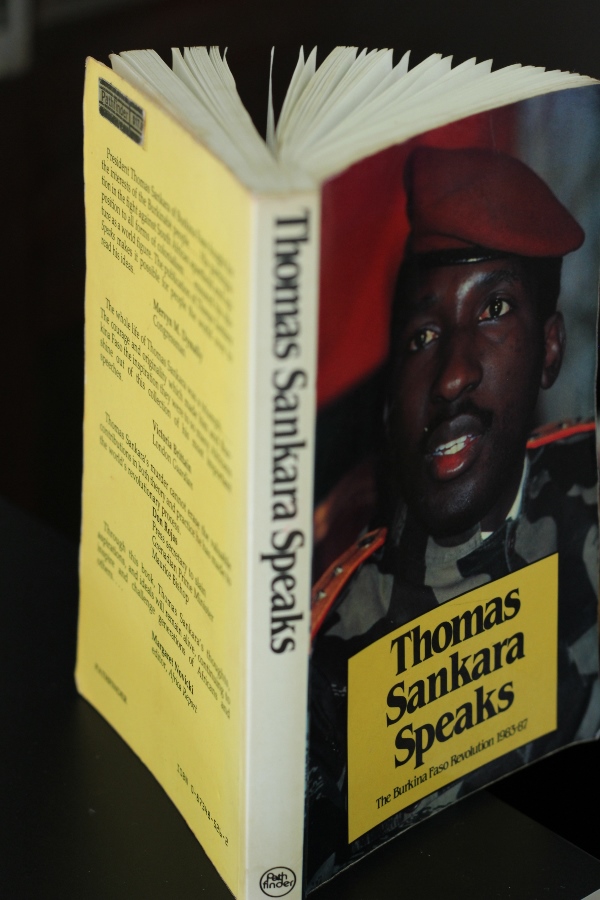 Thomas Sankara Speaks: The Burkina Faso Revolution 1983-87
Translated by Samantha Anderson
Published by Pathfinder Press (1988)
ISBN 0-87348-526-2
THERE are a number of revolutions which have shaped and changed destinies recorded the world over.
At one time, the Age of Revolution became a popular period in both Europe and the Americas.
This period left a mark in European history as changes in governments from absolutist monarchies to constitutionalist states and republics became the order of the day.
Years later, Africa, which was, and still is, licking the wounds of slavery and colonialism joined in with its own kind of revolution.
It was a revolution aimed at a complete change from oppressive colonial governments to African liberated leaderships.
This was made possible by efforts of the great statesmen of Africa.
Today the legacy of Patrice Lumumba, Kwame Nkrumah, Samora Moisés Machel, Jomo Kenyatta, Jerry Rawlings and Thomas Sankara, among others, remains fresh in the minds of Africa.
These men contributed in different ways to revolutions that shaped the whole continent while their existence provided a huge awakening to Africans.
The book under review this week gives an insight into a revolution that occurred in Burkina Faso.
Titled Thomas Sankara Speaks: The Burkina Faso revolution 1983-87, the book is a compilation of the late President of Burkina Faso's speeches and interviews he delivered at different platforms during his tenure which was unfortunately short-lived to five years. At the age of 37, Sankara was assassinated in a counter-revolutionary military coup by troops loyal to his close friend and ally Captain Blaise Campaoré.
The book is an eye-opener highlighting crucial issues necessary for the emancipation of Africa, especially women.
Sankara's statements reflect the thinking of a dedicated man, determined and convinced to show the world that Africa is not backward as perceived in some quarters.
His words, though delivered more than two decades ago, are not only inspiring but remain relevant to the continent's current situation.
He is one individual who does not only denounces but tackles various issues that have seen Africa remaining at the periphery of social, economic and political development.
The revolution that Sankara talks about addresses issues of identity, emancipation, empowerment and development, among others.
He is against the idea of having a revolution that, at the end of the day, fails to cater for the needs of the masses:
"You do not make a revolution simply to take the place of the former rulers you have overthrown. You do not participate in the revolution for vindictive reasons, out of desire for an advantageous position: 'Get out of my way so that I can take your place!'"
Of importance about Sankara is that he directly attacks hypocritical Africans destroying the ethos of the revolution by upholding the ideas of the oppressors, those that Africans fought against in different liberation struggles.
Such people, Sankara refers to as enemies of the people.
"The enemies of the people here inside the country are those who have illicitly taken advantage of their social position and their place in the bureaucracy to enrich themselves," said Sankara.
"They are a group of bourgeois who enrich themselves dishonestly through fraud and bribery, through the corruption of state officials, so that they can bring kinds of products into Upper Volta, increasing the price tenfold.
"They are the men in politics who travel through the countryside exclusively at election time.
"The enemies of the people are likewise those who keep us in ignorance. Under the cover of spiritual guidance and tradition, they exploit the people instead of serving their real spiritual needs and their real social interests."
Common in his speeches is the attack on imperialism which he acknowledges as a dilemma that is crippling Africa.
He highlights that it is through neo-colonialism that the ideas of imperialism are celebrated while Africa suffers.
"The colonial army was replaced by a neo-colonial army with the same characteristics, the same functions and the same role of safeguarding the interests of imperialism and its national allies," said Sankara.
"The colonial school system was replaced by neo-colonial schools, which pursued the same goals of alienating our children from our country and reproducing a society that would primarily serve the interests of imperialism and secondarily those of its local lackeys and allies."
In his short-lived term, Sankara also brings to the fore the white man's hypocrisy which is reflected through aid given to developing countries.
As a believer of Africa's development, dream and complete freedom, Sankara's utterances inspire Africans to work towards massive economic development.
"Aid to Burkina Faso must serve to strengthen, not undermine, our sovereignty. It should help to destroy the need for further aid," Sankara said in one of his speeches.
His message is that of upholding the African dream and identity. He stresses that without identity, the Burkinabé and the rest of Africa will continue to be 'slaves' of imperialism.
"Certain blacks are afraid and prefer to swear allegiance to white. We must denounce this! We must fight against it! We must be proud to be black!" said Sankara.
Without doubt, not only Burkina Faso but Africa was robbed of a great man who had a great vision for the continent.
Sankara's thoughts and ideas will forever live!