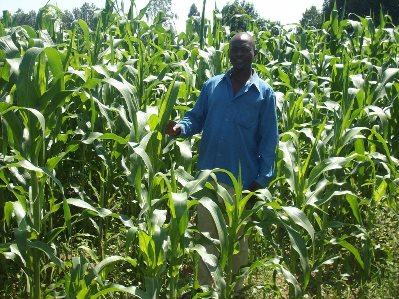 THE Zimbabwe Farmers Union (ZFU) has urged farmers countrywide to take heed of climate and weather patterns to avoid losing their crops due to shortage of water from global warming effects.
Agricultural production in Zimbabwe is dependent on weather and climate despite the impressive advances in agricultural technology over the last decades.
All agricultural endeavours are influenced by weather and climate events.
The benefits of understanding these events help in the establishment of techniques and controls that foster a healthier agricultural industry.
It is therefore important for farmers, researchers or persons interested in agriculture, to know that there are daily, seasonal, and annual variations that play a vital role in crop response and survival.
Over the past years, the country has experienced decreasing rainfall and rising temperatures due to climate change, a situation that has thrown many farmers into confusion. Seasons have become unpredictable making it difficult for farmers to plan properly. Erratic rains cause crops to wilt before maturity.
Climate change experts say changing weather patterns are caused by the increasing amount of gases in the atmosphere, especially carbon dioxide.
Carbon dioxide and other gases such as methane and nitrogen, commonly referred to as greenhouse gases, are causing the earth to heat up.
The impact of this on food self-sufficiency was being felt at household level, and fears abound that the food shortages, in turn, might deteriorate into a famine and humanitarian disaster.
However, despite these climate change effects such as erratic rainfall, farmers have continued to follow traditional planting seasons and this has increased their frustration as crops wilt due to lack of rain.
The ZFU information officer, Tinashe Kairiza said farmers should not plant blindly, but act in accordance with the expert advice from agronomists and weather experts.
He said farmers have suffered a succession of poor harvests with yields far below what the country needs due to their inability to adopt new farming strategies that can help their crops survive the low rainfall caused by climatic shifts.
"Local farmers should wake up to the reality of climate change and move to farming strategies and methods that can help them tackle the effects of climate change to ensure sustainable good yields," he said.
"They must get proper information about weather and rainfall forecast for the season so that they are able to plan correctly for their production."
Since Zimbabwe has an agro-based economy, the meteorological services department is there to provide key information to the agricultural sector.
As such, the Zimbabwe Meteorological Services Department (MSD) has been raising public awareness on climate change issues.
Also, depending on its projections, the department responsible for cloud seeding operations to increase the chances of precipitation from potential clouds to minimise the impact of dry spells.
According to the MSD, the outlook for the 2014-15 summer rainfall season for Zimbabwe for the next six months would be characterised by normal rainfall with a slight bias towards above normal rains expected in Region One which comprises of Mashonaland and northern parts of Manicaland throughout the season.
For Region Two mostly covers Matabeleland North and part of Midlands North and Bulawayo, and Region Three mainly Matabeleland South, Masvingo and Southern Manicaland, projections are for normal rainfall for the October-December 2014 period. However, from late January until the end of the season in March, MSD said the rainfall should be below normal, suggesting an early end of the season for these two regions.
Kairiza said the failure by farmers to take heed of rainfall forecast were forcing most to operate at a loss as most of their crops withered as a result of prolonged dry spells.
"Traditionally the Southern region of the country receives rainfall and planting starts in October and Mashonaland and Manicaland receive rainfall in November, which is no longer the case as rainfall patterns continue to shift," he said.
"Most of the farmers are forced to replant their crops as most the planted seeds fail to germinate due to lack of water.
"This will increase production costs of the farmers as they have to buy more seeds and fertilisers."
The MSD said farmers in the northern parts of the country, specifically in Region One, are encouraged to increase hectarage since normal rainfall is expected.
However, the department observed that farmers in Region Two and Three are most likely going to experience a short season, hence growing of small grains would be encouraged. Kairiza said there was need to enhance rainfall this season to ensure that crops would have adequate water supply.
"The national cloud seeding programme should be encouraged so that we can have more rainfall in the country," he said.
"There is also need to establish more irrigation schemes for those with access to dams so that they can have water to sustain growth of their crops in terms of water supply."
Most farm operations are weather sensitive, for example the application of fertilisers and pesticides, planting, movement of agricultural machinery into to the field and harvesting.
These are operations that yield best results when executed under the right weather conditions.