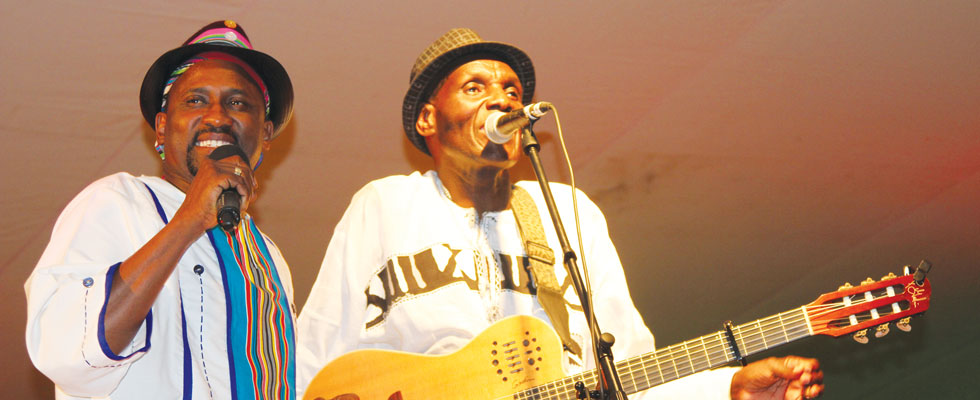 By Gracious Mugovera
THE much anticipated 'Thank you Zimbabwe' gig held last week Friday at Andy Millar Hall in the capital had some shortcomings which Zimbabwean music promoters must learn from.
The show which featured South Africa's music maestro, Ringo Madlingozi and Zimbabwean music guru Oliver 'Samanyanga' Mtukudzi was organised by Zimbabwe's top music promoters, Josh Hozheri of Jazz 105 and Chipaz Promotions' Partson Chimboza.
Other artistes who graced the event, include dancehall ace Winky D and crowd puller Mukudzei Mukombe better known as Jah Prayzah.
There is no doubt all the artistes wowed fans with their splendid performances, but some revellers who had come early for the show said they were disappointed by the promoters' failure to stick to time.
Gates for the show at Andy Millar Hall were supposed to open as early as 5pm, but the first artiste to perform hit the stage after 9pm.
Winky D was the first on stage after revellers were already tired of listening to the DJ.
"These promoters are slowly developing this bad habit of not sticking to the time they promise to revellers," said one disappointed fan at the show.
Chimboza as one of the organisers, however, said they could not open the gates at the promised time due to some problems encountered at the venue.
"We could not open the gates early because there were people sitting for exams at the venue hence the decision to open gates around 6:30pm," he said.
"Besides we were only following the programme, which was to start after 9pm."
Chimboza said charging US$10 for the high profile gig was their own way of expressing gratitude to Zimbabweans for their invaluable support.
"Under normal circumstances, we could have charged US$20 for such a show, but we appreciated our revellers by charging a lower price," he said.
As the guest artiste for the show, Ringo clearly showed his maturity.
Revellers were given value for their money as the Cape Town-born musician sung and danced to the lyrics of his popular love songs such as 'Sondela', 'Kum na Kum' and 'Buyisa'.
He showed that he is one artiste who can let good music flow to his fans.
Together with his friend Mtukudzi, the duo sent the crowd into a frenzy as they performed 'Into Yami', a song that turned out to be everybody favourite.
As usual, Jah Prayzah with his energetic group thrilled the crowd.
Despite being one of the first artistes to arrive, the Uzumba-born musician was the last one to hit the stage, giving the gig a befitting end with a fabulous performance.