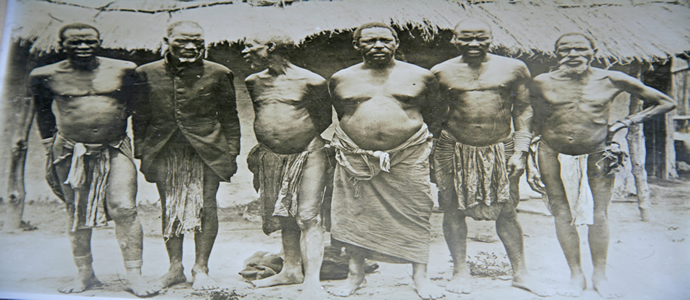 By Chakamwe Chakamwe
WAS the First Chimurenga a real big deal?
Wasn't it only a one-day wonder?
If it was anything big why have we not celebrated its anniversaries over the years the way we do the Second Chimurenga?
Were Rhodesian settlers given a real hard time in that war or it was so little and ineffective that the white settlers went about their normal business without any worries?
The above are some of the numerous questions people ask wanting to know whether in fact the First Chimurenga was a big deal or it was just an insignificant war not worth to write home about.
It is our aim in this article to demonstrate that the First Chimurenga was a big deal where the blacks in this country fought the Rhodesian colonial settlers with very great courage.
In order to achieve that we shall let the Rhodesian settlers themselves who either took part in that war itself or wrote about it tell us that yes indeed the First Chimurenga was a big deal and no joke at all.
Because the subject is so very wide we shall simply pick a few examples from here and there to back up our story.
We would like to emphasise that the examples below picked purely at random are very few.
But they give us the widespread nature of that war.
We shall begin by hearing from a soldier who took part in that war right from the beginning all throughout its duration and survived to tell the tale. His name was one A. Mcgregor a policeman at the time based in Harare when the war broke out.
This is what he says happened as the war broke out.
"About 4am on the morning of the June 17 1896 we were startled from sleep by the sound of a horse galloping into the barrack-square at Salisbury (Harare), and hastily donning anything handy in the way of uniform we tumbled out to gather the news.
Our visitor, Seargent – Major Bray, of the Rhodesian Horse Volunteers lost no time in explaining his haste and told us that a native had arrived at his store, six miles from town half dead from fatigue to warn him and his wife to leave the place without delay.
His master had been killed together with other white men. He said the Mashona were up in arms all over the country; he himself had barely escaped with life."
Mcgregor goes on to tell us what then happened in Harare once the war had broken out.
"The news was soon all over the town. The entire population of Salisbury (Harare) came into laager. Trenches and entanglements were being prepared parapets of sand bags already erected ran all round and machine guns defended three of the four angles. Our barrack room was now converted into a hospital and our mess room was turned upside down. The women were accommodated in the jail with the cells being filled up".
Yes the Rhodesia settlers were then in deep trouble!
Now that the war was on let us get some of the action from various sorts of the country.
This is just a glimpse of the many many battles that were fought bitterly throughout the country.
Earlier in the year in March the Chimurenga had broken out in Matabeleland.
Like what later happened in Harare, Bulawayo went into laager.
We pick up some of the action that took place at a farm which was called Fonseca's farm outside Bulawayo.
The Rhodesians at that battle were led by one Giffard.
"The next morning Monday April 6 1896, Giffard sent out patrols and shortly after sunrise some cattle being reported in the direction of the Umgusa, the colonial boys were sent out to bring them in.
They had proceeded a few hundred yards when fire was opened upon them (by the Ndebele freedom fighters).
The firing becoming brisk and rebels (freedom fighters) being in considerable force they (Gifford and company) were compelled to retire towards the laager.
Trooper K.S. Mackenzie had been killed during Gilford's retirement and Corp. E. Reynolds had been wounded near where the maxim gun was. He was hit a second time and died half an hour later".
The fighting continued until the white patrol was defeated.
The entire countryside was then on fire.
There was fighting up and down the Southern region forcing all the white towns to go into laager at Gweru, Masvingo, Gwanda, Mberengwa, and other small settlements.
"Chakanga chava chimurenga kwese kwese".
In Manicaland we can highlight an incident to illustrate that area too was on fire.
The incident involved the legendary King Makoni Chingaira.
On June 20 Mr Taberer left Umtali and set out for Headlands, where he reached on the 21st. Here native commissioner Ross joined him and Native Commissioner Edwards of Marandellas (Marondera). They were altogether with Talrere at Headlands many armed white men from Rusape Maranderalls (Marondera) and Macheke district as well as a number of women and children. On June 22 Chingaira's forces attacked Headlands sending the Rhodesians to flee to Mutare on June 23. From then on Chingaira went on the rampage defeating one unit of Rhodesian forces after another that tall bearded man displaying exceptional courage.
In the Mtoko area we are given a description of one of several battles that took place when the Rhodesian settlers had gone into laager at a settlement there.
"On Sunday morning we commenced laagering up but were attacked (by the freedom fighters) before we got half through. The enemy came in force from the river to our west at 9.30 and opened fire.
The enemy kept us on the edge night and day during the whole time we were laagered but their most determined attacks were during Wednesday and Thursday 24 and June 25 1896 when we computed their strength with guns at between 70 and 80 in addition to hordes armed with battle- axes and assegais. They made eight heavy attacks from all sides".
In the end the Rhodesians suffered the following causalities.
"L. Herman killed, J. Fletcher killed, J. Rowland killed, E.C. Brodbeat wounded, Jas Stroyan wounded, Deane wounded, Geo Holman wounded".
We round off our highlights by looking at the war against the Rhodesians which was being masterminded by one Mashayamombe in Chegutu district who decided to kill all whites in his district.
He sent "one force under Makono which travelled over 70 kilometres to kill one J.C. Hepworth at his farm on the Muzvezve River while he sent one Chifamba to Beatrice Mine to kill one Tate, Koefoed and four labourers there on the afternoon of June 15 1896".
This pattern was repeated throughout the whole of Mashonaland West. The war became so huge throughout the country that the Rhodesian settlers, who were no more able to cope with it asked for plenty of forces from South Africa and Britain to come and help them which is what indeed happened.
Without that huge support the Rhodesian settlers would have lost the First Chimurenga.
It is therefore important to always remember that the First Chimurenga was a big war where our forefathers showed extreme courage and excelled.
It is our view that commemorations to mark the First Chimurenga anniversary must be held once every year for that war was one of the most important happenings in the history of our great nation.