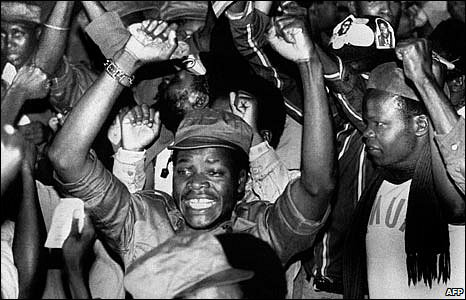 IN the just ended month of October, we remember the Battle of Mavhonde in 1979.
We also remember the 'Battle of Mgagao' — the Mgagao Declaration of October 1975.
In previous accounts, The Patriot has detailed the desperate acts (Détente') of the Ian Smith and John Vorster regimes to stop the Zimbabwe armed struggle to save themselves from the liberation forces of FRELIMO, ZANLA, ANC-MK and ZIPRA who were menacingly surrounding them.
Thus, we witnessed the failed Unity talks between the Smith regime's stooges and the leaders of the liberation movement; the connivance between the Smith regime and sell-outs of the Nhari /Badza Rebellion; the horrific murder of Chairman Herbert Chitepo; the arrest of Cde Josiah Magama Tongogara and other leaders of ZANU; the detention of 1 000 ZANLA and ZIPRA freedom fighters; and the murder of 11 ZANLA combatants at Chifombo, Zambia.
The ravages and devastation of these acts of sabotage brought the war to a grinding halt while a dark cloud hung over Zimbabwe.
All combatants could not be at peace; their anguished spirit found voice in their comrades at Mgagao.
One of the comrades who was part of the Mgagao Declaration, who was one of the three commissioned to take the Declaration to the then leader of ZANU, Ndabaningi Sithole, was Comrade Chinodakufa.
Comrade Chinodakufa's story is drawn from the Zimbabwe Heritage Trust Archives and it was recorded in Shona.
We had spoken to General Mbita, (that the war having ground to a halt in the wake of Détente'), we were going to march home to resume the struggle (all the way from Tanzania), but General Mbita's response was that we needn't go that far, we should instead put our case on paper, which would be taken to Mwalimu Nyerere, to Chama Chamapinduzi, and to the Tanzanian People's Defence Forces. He would come back to us with the response. We took his advice and all of us members of the General Staff sat down and prepared a document, clearly stating our case.
Among other issues the comrades underlined that Sithole had failed them.
Eleven ZANLA combatants were shot and killed at Mboroma by Zambian authorities but he never came there. When we asked him to attend to the issue, his response was that he had to fly to America where his daughter was sick, she had the flu and a headache. We were shocked, our response was: 'Your child, one child, whose children are we then?' That demonstrated to us that he was no longer one of us.
Thus the comrades drafted the Mgagao Declaration. The comrades dismissed the so-called unity leadership of Muzorewa. They also rejected Sithole. The two were doing nothing to propel the armed struggle forward.
The freedom fighters charged that the blood to be shed in the war of liberation was theirs and no one else's and therefore no-one could hinder them from prosecuting the armed struggle.
They appealed to the Tanzanian Government to assist them to resume the war of liberation. These heroes of Mgagao made the critical difference in a war that had almost been lost; but not in their hearts and souls where the fire of the revolution still burned so fiercely — nothing could stand in their path.
They looked for comrades who were a bit brave, to take the document to Ndabaningi Sithole in Dar-es-Salaam. Comrades Keshu, Akin Mudende and myself were chosen. We left. We slept on the plane and the next morning, we took the document to Sithole. He welcomed us, and we presented him with the document. He read it, before he was through he stopped and looked at us incredulously. 'So it is you three who brought this document,' and when he finished reading he said: 'Are you sure it is you who wrote this document? Why did you write this?' We are just messengers sent to deliver the document. You see these names on the document, ours included, it is up to all those who wrote the document to respond. He went on to call the police, Chama Cha Mapinduzi and the army who all told him they had the document and everything was legal, above board. Sithole then declared we would rot in Tanzania. He would not assist us to get to Zimbabwe to continue with the war. We told him we were grown-ups and we would find our way back. We took the response back to the comrades at Mgagao and they were jubilant.
General Mbita then suggested that we select some comrades to go to Mozambique for reconnaissance since the Zambians had accused us of being murderers without a cause. A delegation led by Comrade Nhongo was sent to Mozambique. Comrade Nhongo came back with the news that Comrade Samora Machel would accommodate us in Mozambique. We were overjoyed.
It baffles the mind that some can insist on shedding their blood for their country yet others would sell their country of birth. Some are martyrs where others are traitors.
A delegation consisting of Cdes Paka Chikwaera, Etherton Shungu, Josiah Misihairabwi and myself were then selected to go to Mozambique to organise the resumption of our armed struggle. We boarded a plane on December 4 1975 under the protection of General Mbita, so that we would not be arrested (as had been happening since Comrade Chitepo's death).
It is amazing that Tanzania gave the highest honour to our armed struggle, providing a plane all the way from Tanzania to Mozambique.
We stopped in Beira where we were given some food. We were under heavy guard the whole time. We then resumed our flight to Maputo, arriving at night. We were taken by Mozambican security to our own quarters above a hotel, an upper room where Camaradas also had their mess. We were under tight security. We spent four days there. On the 5th day, we were told we would meet with Comrade Samora Machel and the Central Committee. We were given a date. We said we would not be foolish. We organised ourselves in preparation for the meeting. We chose Joshua Misihairabwi to be our leader, Secretary, Paka Chikwaera; Security, Etherton Shungu; and Political Commissar, myself.
Finally we met with Comrade Samora. Comrade Samora Machel was a great man. He gave us courage. MaZimbabhwe mauya, to resume the war! I thank you. He was so happy! I will assist you, he said. If Zimbabwe is not free, we are not free, he emphasised. He was of such political depth. He promised to give us the armaments which would be replaced when our own arrived and he gave us a large sum of money. He provided us with a car and two security personnel.
We left Maputo at eight and got to Chimoio at 10. From there we drove 500 kilometres to Tete. When we got to Tete Camaradas blew the emergency whistle.
The comrades gathered at the parade and the Camaradas announced the news each comrade was dying to hear:
We have brought your comrades. You were not able to get into Zimbabwe but you can now go home to resume the war, prepare!
These comrades had weathered Détente; all the time waiting and hoping to go home, instead of saying zvanakirezvo tombozorora hondo hameno. They showed the true mettle of Zimbabwe, the mettle of a comrade.
Pakaita morari zvakanyanyisa.
Fortunately, Mozambique was, by then, free; we were able to cover all the camps in Mozambique by truck.
From there, we went to all provinces with the news of the resumption of the war. We set dates signalling the resumption of the war in Manicaland Province, Gaza Province, Mashonaland West, Mashonaland East and throughout the operational zones.