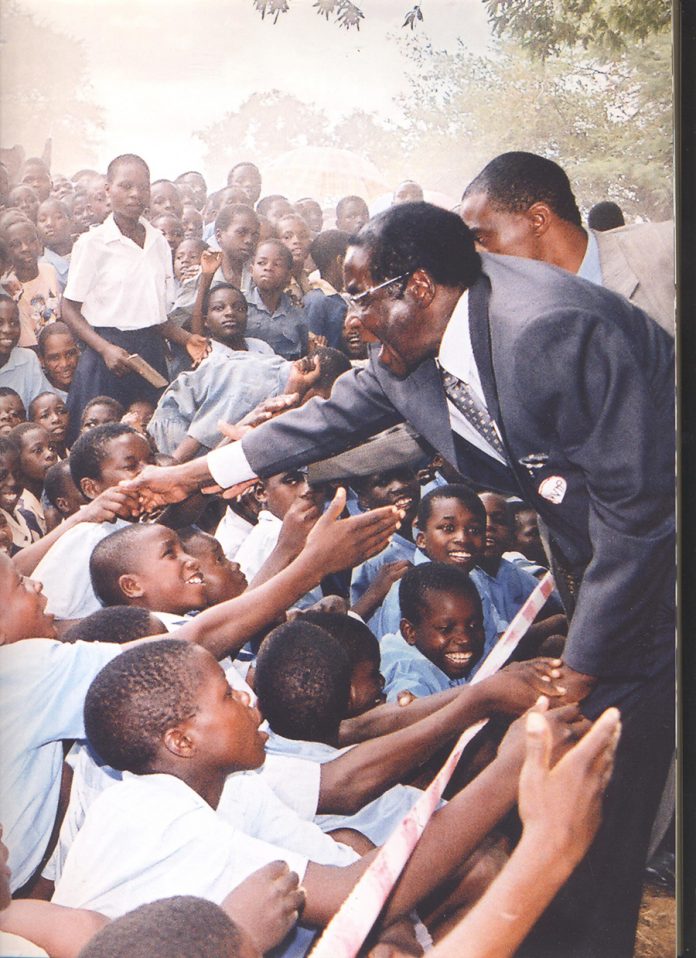 FROM freedom fighter, to Premier and President, Robert Gabriel Mugabe was often referred to as a harsh, paranoid, autocratic, self-serving, arrogant and power-obsessed leader.
But was that a fair and true assessment or judgement?
Mugabe was born on February 21 1924, in Kutama, Zvimba, educated at Kutama Mission School and qualified as a teacher.
He attended Fort Hare University in South Africa (here he met some of his contemporaries such as Julius Nyerere, Herbert Chitepo and Kenneth Kaunda).
After graduating in 1951, he worked as a school teacher at various schools in Southern Rhodesia (now Zimbabwe) and in neighbouring Northern Rhodesia (now Zambia) and then on to Ghana where he met and married Sally Hayfron in 1961. They had a son named Nhamodzenyika.
While in detention, Mugabe obtained further degrees through correspondence courses with various educational establishments, including University of South Africa and London University.
He obtained degrees in Science, Law, Economics, Bachelor of Administration, Arts and Education.
During his stay in Ghana, Mugabe was inspired and influenced by Kwame Nkrumah, Ghana's then Prime Minister.
As an African nationalist, Mugabe felt bitter and angered that (Southern) Rhodesia was a British colony governed by a minority settler-elite.
He embraced Marxism and joined African nationalist protests calling for an independent state with an indigenous-led government.
Mugabe became publicity secretary of the National Democratic Party in 1960 and was appointed acting secretary-general of the Zimbabwe African People's Union (ZAPU), led byJoshua Nkomo. The following year, after the NDP was banned, it immediately reformed as theZimbabwe African Peoples Union.
In 1962, Mugabe suffered political detention for his political activism.
In 1963, Mugabe left ZAPU to join and become secretary-general of the breakaway Zimbabwe African National Union (ZANU), which he came to lead.
In 1964, after critising the government, he was convicted ofsedition and was sentenced again, without trial, to political detention until 1974.
Late in 1966, while in detention, his three-year-old son Nhamodzenyika, died in Ghana from malaria. Mugabe petitioned the prison governor to leave on parole to attend the funeral in Accra, the Ghanaian capital.
Ian Smith, the Rhodesian Prime Minister, personally intervened to prevent his release.
Notwithstanding, Mugabe's political viewpoint was that: "A new progressive society could not be constructed on the foundations of the past…that they would have to destroy most of what had been built up after 1900 before a new society, based on subsistence and peasant values could be constructed."
On the eve of Zimbabwe's independence in 1980, after many years of bitter armed conflict between the liberation forces and the colonial state, Mugabe called for forgiveness and reconciliation for past wrongs between former enemies.
The anxious white Zimbabwean population was told: "If yesterday I fought you as an enemy, today you have become a friend and ally with the same national interest, loyalty, rights and duties as myself. If yesterday you hated me, today you cannot avoid the love that binds you to me and me to you. The wrongs of the past now stand forgiven and forgotten …."
In 1974, though still imprisoned, Mugabe was elected leader of ZANU.
He was released from prison in December that year, along with other nationalist leaders following South Africa's détente initiative.
From Mozambique, Mugabe led the armed struggle against the minority Rhodesian regime up to the signing of the Ceasefire in 1979, after British Prime Minister Margaret Thatcher brokered a deal to end Smith's 14-year rebellion against the British Crown.
Mugabe emerged as a hero at the end of the war in 1979, and was chosen as newly-Independent Zimbabwe's Head of Government in 1980; initially as Prime Minister until 1987, then as President of Zimbabwe from 1988, after the merger of ZANU and ZAPU in 1987, which created ZANU PF.
This incorporated the position of Prime Minister, President and Commander of the Armed Forces
Nine universities awarded Mugabe honourary doctorates, while the Queen of England bestowed him an Honorary Knighthood in 1994.
In 2015, he was awarded the Confucius Peace Prize; China's alternative to the Nobel Peace Prize, "…for his inspired national leadership and service to pan-Africanism."
He was labelled as a ruthless tyrant by the West "…who presided over bloodshed and persecution." In response to critics, former Zambian leader Kenneth Kaunda, in 2007, wrote: "Leaders in the West say Robert Mugabe is a demon, that he has destroyed Zimbabwe and he must be got rid of; but this demonising is made by people who may not understand what Robert Gabriel Mugabe and his fellow freedom fighters went through."
Certainly, those who clamoured for his downfall did not experience the humiliation of being segregated, spat upon and demeaned at every turn.
Love him or hate him, you could not ignore Robert Gabriel Mugabe.
Always dapper, eloquent and forthright; a champion of the previously marginalised interest of the majority indigenous people.
He fought for Africa and Africans; for women's emancipation and introduced gender equality.
He was passionate about children and children's education.
He raised the literacy rate to 98 percent in the 1990s, which became one of the highest in the world. In 2010 Zimbabwe's literacy rate of 92 percent was ranked the best in Africa by the United Nations Development Fund (UNDP) Digest.
He fought against tribalism and nepotism: "…urge you," he said on April 17 1980, "….whether you are white or black, to join me in a new pledge to forget our grim past, forgive others and forget, join hands in a new amity and together, as Zimbabweans, trample upon racialism, tribalism and regionalism and work hard to reconstruct and rehabilitate our society …."
Most recently, in 2000, he led Zimbabwe through the Third Chimurenga.
The Land Reform and Resettlement Programme, he fully supported, saw many landless Zimbabweans benefitting from the return of their land.
May his soul rest in eternal peace!
Dr Michelina Rudo Andreucci is a Zimbabwean-Italian researcher, industrial design consultant, lecturer and specialist hospitality interior decorator. She is a published author in her field. For comments e-mail: linamanucci@gmail.com