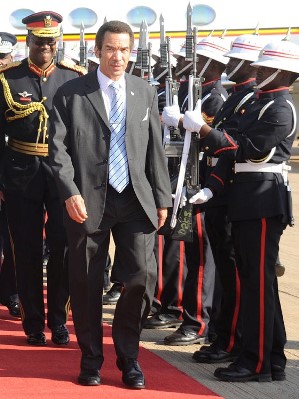 EARLIER this year the US issued an invitation to African countries to attend the US-Africa Summit.
According to the White House, invitations were extended to 50 African leaders who are 'in good standing' with both the US and the African Union (AU).
Needless to say that was not the case; Zimbabwe could not attend, for obvious reasons, Eritrea, Sudan and Central African Republic were also not invited because they 'had bad human rights records'. 
Egypt, which was under suspension from the AU, was invited despite that it had just held what had been slammed as a sham election.
Morocco, which is not part of the AU, was invited.
Morocco has long presented itself as a great respecter of human rights and is hosting the second annual World Forum on Human Rights on November 27 2014.
Human Rights Watch has said that there has been a crackdown on human rights groups in Morocco since July, when Interior Minister Mohammed Hassad criticised unnamed rights groups for falsely accusing security forces of abuses.
Ouafa Charaf, a member of Moroccan Association for Human Rights, was convicted of falsely accusing police of torture in August and given a year in prison.
When she appealed on October 20 2014, her sentence was doubled.
Matti Monjib, head of the Ibn Rochd centre for investigative journalism, has announced that he is shutting down his organisation after repeated interference from the government, including having a seminar shut down on October 31 2014.
According to Wikipedia, freedom of the press is quasi-absent and many journalists are thought to practice self-censorship.
Questioning the legitimacy of the monarchy or the actions of the King is a taboo and it is illegal to question the kingdom's 'territorial integrity', i.e. the virtual annexation of the Western Sahara.
In 2005 the well known Moroccan journalist Ali Lmrabet was 'banned from practising journalism for 10 years' and fined 50 000 Dirhams (about 4 500 euros) for reporting about conflict in the Western Sahara, according to Reporters Without Borders.
As of 2007 Lmrabet is still barred from working as a journalist.
Many high-profile Moroccan journalists, such as Aboubakr Jamai, Ali Anouzla, Ahmed Benchemsi and Rachid Niny, have been reduced to silence through a combination of imprisonment, heavy fines, advertising boycott and distribution/withholding of state funds.
Many online journalists were sentenced to prison for criticising the King or denouncing rampant corruption by King-appointed governors.
Morocco remains one of America's oldest and closest allies in the Middle-East and North Africa.
Morocco also assisted the CIA with questioning Al-Qaeda members captured in Afghanistan, Iraq, Indonesia, Somalia and elsewhere during the administration of George W. Bush, who designated the country as a Major Non-NATO Ally.
While President Barack Obama has yet to announce publicly his stance on the conflict over Western Sahara, President Bill Clinton set a precedent which President George W. Bush followed.
Both Presidents Clinton and Bush sided with Morocco and maintained the position that, "Genuine autonomy under Moroccan sovereignty (is) the only feasible solution." 
Additionally, according to a Congressional Research Service (CRS) report issued in December 2008, the official position of the United States government is to support Morocco in the dispute over Western Sahara.
The report stated, "The United States supports the UN effort and has urged the parties to focus on autonomy — a solution that would not destabilise its ally, Morocco." 
Militarily, the United States has been the primary source of Morocco's weaponry in the conflict over Western Sahara.
The United States provided the most support for the Royal Moroccan Air Force.
Botswana is one of the few African countries revered for being a shining example of democracy and economic success.
When the news media turns a penetrating gaze on Africa, Botswana rarely makes headlines.
Botswana is best known for diamonds.
It ranks second behind Mauritius in the latest Ibrahim Index of African Governance.
Botswana President Ian Khama makes it a habit of sanctimoniously slamming other African leaders on their records of practising democracy, rule of law, and human rights.
The unpleasant side of Botswana came to light this September when President Ian Khama, was reported to have been involved in a late night car crash which resulted in the other driver being given a new jeep.
The editor who published the story, Outsa Mokone of the Sunday Standard, was arrested and charged with sedition.
"I would rather spend 100 years in their prisons rather than be a prisoner of guilty conscience," he said upon his release.
Police raided the offices of Sunday Standard and seized documents and computer equipment.
Mokone's colleague, Edgar Tsimane, fled to neighbouring South Africa where he applied for asylum. 
In an interview with eNews Channel Africa (eNCA), he painted a highly unflattering picture of a country that many revere as a beacon of democratic progress for the continent.
The incident sparked outrage from the media rights groups and in an interesting turn of events, America joined the condemnation.
The US State Department said Mokone's arrest was, "inconsistent with fundamental freedoms and at odds with Botswana's strong tradition of democratic governance."
That provoked a backlash from Botswana's government spokesman Jeff Ramsay, who said he noted the US reaction with 'dismay' and suggested the American government "might wish to put its own house in order before rushing to hastily comment on the judicial affairs of others."
Ramsay added: "We find it unfortunate that a foreign government, much less one that professes to be a friend and partner of Botswana, should issue such a statement about an ongoing judicial process in our country."
Interestingly Botswana has never had any problems with condemning and castigating Southern African governments even in matters that are before the courts.
True to form, Botswana has denied firebrand South African politician Julius Malema, a visa to that country.
It should be recalled that 'Juju', as he is nicknamed, recently called for the overthrowing of the Botswana Government alleging that President Khama is a Western stooge.
Like any democratic leader, who understands that even the 'crazy' deserve to have their say, one would have thought President Khama would let Juju have his say and depart, but no, he reacted like a typical tyrant.
Just this past week, Botswana's High Court on Friday rebuffed an attempt by President Khama's party to change parliamentary voting rules, amid concerns that he is trying to impose his brother as Vice-President.
Apparently, President Khama wanted lawmakers to vote by a show of hands for his deputy instead of through a secret ballot — a move which would expose any who opposed his choice.
A prominent social commentator in Botswana is quoted as having said that President Khama views the country as a family heirloom to inherit and therefore does not want to see any challenge to his hold on power.