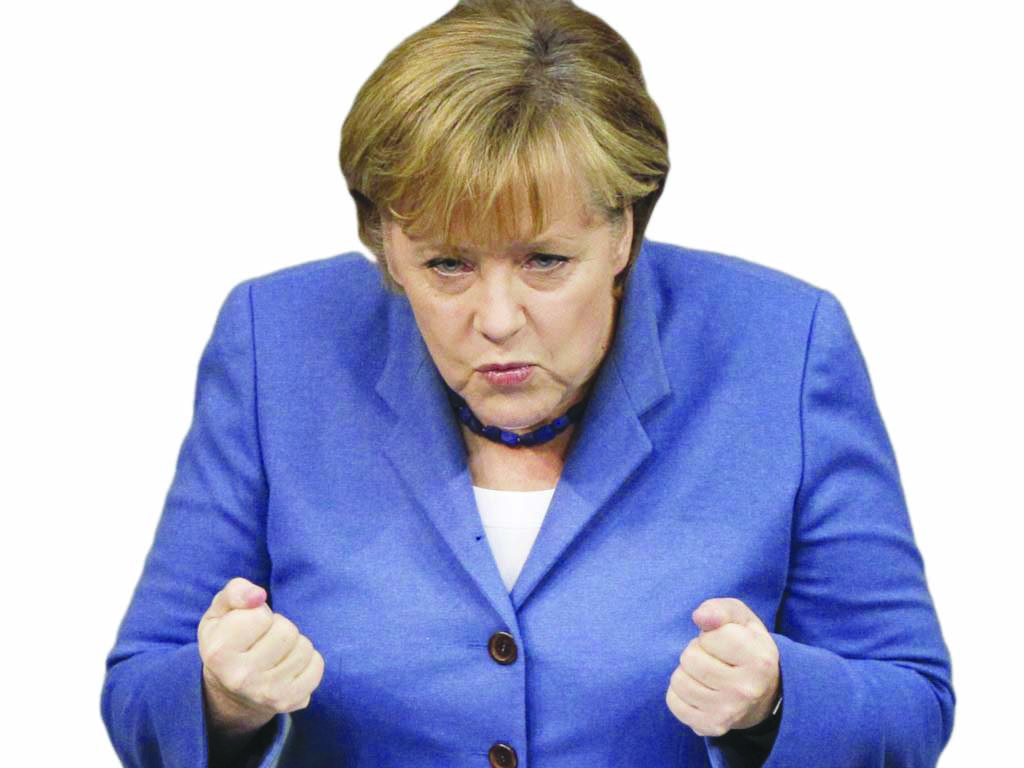 ALL hell broke loose this week after the London's Guardian headlined 'NSA monitored calls of 35 world leaders after US official handed over contacts'.
The paper reported that America's National Security Agency (NSA) monitored the telephone conversations of 35 world leaders after being given the numbers by an official in another US government department.
This all came from a classified document provided by whistleblower Edward Snowden.
The confidential memo revealed that NSA encourages senior officials in its 'customer' departments, such as the White House, the State Department and the Pentagon to share their 'rolodexes' so that the agency can add the phone numbers of leading foreign politicians to their surveillance systems.
The document goes on to note that one unnamed official handed over 200 numbers, including those of 35 world leaders, none of whom are named.
These numbers were immediately tasked for monitoring by the NSA.
In October 2006, the NSA's Signals Intelligence Directorate issued a memo that was titled 'Customers can help SID obtain targetable phone numbers'.
The memo indicated that American officials who mixed with world leaders and politicians could help the NSA in its surveillance by providing numbers of these targets.
These numbers would not only provide information, but also lead to the accessing of new numbers that could be spied on.
The memo goes on to acknowledge that of the 200 telephone numbers turned over by a government official, many of them had produced 'reportable intelligence'.
A look at some of the telephone numbers accessed by the SID revealed they included direct lines, fax, residence and cellular numbers of foreign political or military leaders.
Close American allies like France, Germany and Mexico as well as rivals like Cuba and Venezuela are all targets of massive US surveillance.
German Chancellor, Angela Merkel has come out baying for blood accusing America of tapping her mobile phone.
The German paper, Der Spiegel uncovered NSA activity against the offices and communications of senior officials of the European Union.
Merkel has accused America of a breach of trust.
This accusation of spying by Merkel adds to mounting political tensions in Europe about the scope of America's surveillance on the governments of its allies, after a cascade of backlashes and apologetic phone calls with leaders across the continent over the course of the week.
Earlier this week, President Obama called French President Francois Hollande in response to reports in Le Monde that NSA accessed more than 70 million phone records of French citizens in a single 30-day period.
Last month, Dilma Rouseff, Brazil's president cancelled a scheduled meeting at the White House after leaked documents showed that the NSA spied on her personal phone calls and emails and also that of Brazil's state oil company.
Brazil federal workers have been ordered to use highly encrypted emails.
Rouseff is urging lawmakers to vote into law a draft legislation that would introduce local data storage for internet giants like Facebook, Twitter, and Google in order to keep the information they get from Brazilians users safe from prying American eyes.
BRICS companies are working on creating a 'new internet'.
Brazil has been reported to be building a 'BRICS cable' that will create an independent link between Brazil, South African, India, China and Russia in order to bypass NSA cables and avoid spying.
The Spanish government on Monday summoned the American ambassador to address the allegations that the NSA had recently collected data on 60 million telephone calls in Spain.
Two Spanish newspapers, El Mundo and El Pais reported that the agency had gathered data on phone numbers and locations, but had not monitored the contents of the calls between December and early January.
Interestingly, last year Spain agreed to extend an American lease of military facilities on its territory, including the Rota naval base, where America is planning to station Aegis antimissile vessels as part of the European defence shield of NATO.
The Mexican government issued a statement which berated America for hacking the public e-mail account of former President Felipe Calderon which was also used by Cabinet Ministers.
"This practice is unacceptable, illegitimate and against Mexican and international law," read part of the statement.
According to Press TV, because of this explosive situation 21 countries have been prompted to seek a resolution against America at the United Nations (UN).
The resolution would be the first major international effort aimed at restraining the spy agency's surveillance against other nations.
The Foreign Policy Magazine reported that Brazil and Germany are circulating a draft copy of the resolution to diplomats representing 19 other countries.
The UN resolution is expected to be presented in front of the UN General Assembly human rights committee before the end of the year.
Part of the draft resolution reads, UN member States are "deeply concerned at human rights violations and abuses that may result from the conduct of extra-territorial surveillance or interception of communications in foreign jurisdictions."
Influential EU lawmakers back a measure requiring America companies like Google and Yahoo "to seek clearance from European officials before complying with American warrants seeking private data."
The European parliament already approved a non-binding resolution. It suspends EU Terrorist Finance Tracking Programme data sharing with America.