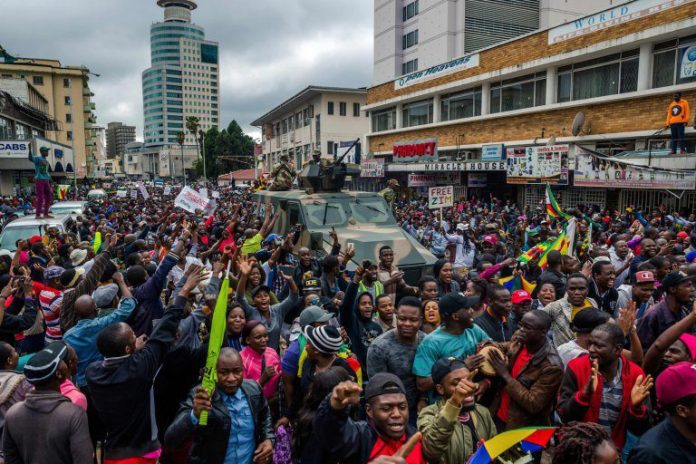 A LOT happened in November 2017.
The question is: When most of these events are taken together in terms of their significance, do they amount to a watershed of some sort for Zimbabwe?
Can we say in all honesty that after all these events unfolded, Zimbabwe became part of a new dispensation, something marking a new era for all its citizens, an era of prosperity when good times visit all of us in all our various roles and capabilities?
To appreciate all these questions, we need to revisit some of these key events in the context of our ambition to become a prosperous country that is able to look after its own and to promote and protect its own national interests.
First: A key development which occurred in 2017 but which got overshadowed by the sound and fury of the succession battles which raged in the ruling Party is the bumper harvest we got.
Over two million tonnes of maize were produced and the granaries which stood more or less empty and in serious disrepair for over a decade were suddenly filled to the brim. For the first time in a long time, additional storage space had to be created for the bumper crop!
Why?
Because of good rains in the 2016/17 season and because of the Command Agriculture Programme which got adopted and which relied largely on capital which, as it turns out, was raised locally.
In other words, for over 10 years, we relied on maize imports from Zambia, Malawi, South Africa and Brazil, among other sources, when the answer to our food security issues has always been right there, staring us in the face all along!
The Command Agriculture Programme comes in as a local solution to a local problem and is designed to address a local strategic need.
The question is: How many tonnes of dignity and self-respect did we lose as a nation during those years of drought and hunger?
How many of our international friends and neighbours are looking down upon us today because we took long to work out a solution to address our hunger?
How many of our adversaries took advantage of our hunger to denounce our land reform and to insist only white farmers could save us from this hunger?
How much damage did we sustain as a nation, as we rushed up and down our continent and beyond, begging bowl in hand, looking for maize when everything we needed to be self-sufficient food-wise, has always been right there before us?
In light of the above, 2017 might turn out to be a watershed if indeed we never go out again to beg for food from donors and exasperated neighbours and to rely on maize imports, during good seasons and bad ones as well.
Put differently, food security is a national security issue; it is also a human rights issue as well as a moral and identity issue, and as such, should automatically get national priority status from the national treasury, especially when it comes to agricultural inputs and setting up of viable irrigation schemes.
And the reason is simple: Food-related matters are strategic in character and should not be left to chance.
Self-sufficiency in food provision will go a long way in restoring our sense of self-respect and self-belief and our image as a country.
Unless we do that first, we will not go very far in our development as a nation.
Second: A lot has been said about how our defence forces handled the transition between the Mugabe era and the Mnangagwa era.
Here is how one Ugandan relative put it recently: "When we heard that the defence forces had taken to the streets we automatically assumed that your roads and lakes would be full of dead bodies; that is what happened in Uganda.
And when it turned out that there was none, Zimbabweans became the darling of most Ugandans.
They now say, you see what an educated people can do?
Even their army shows it!"
For a country that has been demonised by Western media non-stop for over 15 years, the recent performance by our forces is a first class public relations 'coup' which drastically devalues Western propaganda against our country in a matter of a few days.
In light of this superb performance by the defence forces, do we, as a country, still need to carry out the so-called security sector reforms?
If so, to achieve what ends?
Whose interests would be served by those reforms?
If indeed this exemplary performance by the defence forces can be replicated in our economic sector, in our politics, in our educational sector, among others, then indeed 2017 will turn out to have been a watershed in our development as a nation.
The idea here is this: Whatever it is we are doing, we should not lose sight of the fact that there has to be an end-value that guides us in everything we do.
In other words, having much power, much money, too much of this and too much of that should not be an end in itself but a means to an end whose outcome is a public good that is there for everyone to acknowledge.
This is what our forces did and everyone stands to benefit.
Third: Since the unfolding of events between November 13 and 24 2017, a stunning paradox now sits at the heart of our politics.
A few years ago, both ZANU PF and the MDC represented seemingly opposed values and aspirations.
ZANU PF stood for continuity of liberation politics and struggles, while the MDC claimed to represent change and post-modernity of some sort.
Today it is ZANU PF which has successfully changed its way of doing things.
It has completed its succession process and is now represented by a new face with a new work ethic, someone who seems determined to fight corruption and to handle economic issues differently.
Can the same be said about the MDC?
Before November 2017, ZANU PF seemed to 'begin and end' with former President Robert Mugabe.
Today the same party is thriving without him.
Can MDC thrive without its founding father?
Or is it frightened of change?
Right now, it is ZANU PF which has demonstrated its capacity to renew itself while the MDC seems to be stuck in the past? Why?
Because it is fiercely clinging to the West and insisting without shame that international economic sanctions against its own people should continue.
This treasonous betrayal of the national interest alone speaks volumes about how much the MDC needs to reform and to renew itself.
The 'Mugabe must go' mantra is gone.
So, what does the MDC stand for now?
While ZANU PF has demonstrated that it is bigger than individuals who come and go, the MDC seems uncertain and confused.
In this context, can 2017 be regarded as a watershed after which the MDC gets transformed into a loyal and patriotic opposition party which has outgrown the colonial character and vision of its original sponsors?