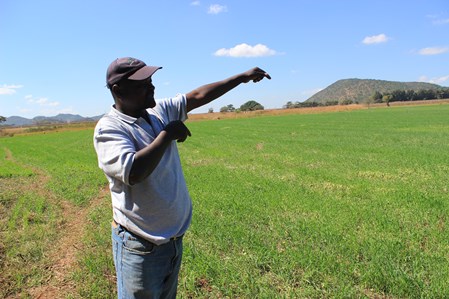 WHEAT production has continued to go down, a worrying trend that has left the sector raising questions if the country will ever be self-sufficient in the cereal.
Last year wheat production declined to 24 700 metric tonnes from 33 700 tonnes in 2012 with reduction in crop hectarage cited as the major contributing factor. 
Limited farmer support to finance the crop in terms of inputs as most farmers lack collateral to borrow from the bank and tight liquidity constraints are some of the challenges that have forced growers to abandon the crop.
Hope is now pinned on the few farmers who have remained resilient and have not allowed the challenges to hinder their efforts of turning around the wheat production sector.
One such farmer is Danny Kasukuwere, a beneficiary of the Land Reform Programme who owns Mapunga Estate in Bindura.
Mapunga Estate which has 220 hectares (ha) of arable land was allocated to Kasukuwere in 2002 and he has remained as one of the few farmers growing wheat in Mashonaland Central Province.
He also produces maize, soya beans, potatoes, sugar beans and cabbages.
The estate boasts of a herd of 98 cattle and 56 goats.
"Zimbabwe is our country, we cannot cry and abandon it because if we do so, no one will come here and turn things around for us," Kasukuwere told The Patriot in an interview during a tour of the farm last week.
"We cannot continue to import wheat, we have to work past the challenges and ensure we are self-sufficient again."
Zimbabwe requires 450 000 tonnes of wheat to meet its annual consumption requirement and the balance has always been met through imports.
The failure to meet demand has resulted in a wheat import bill of over US$ 500 million per annum as Government resorts to close the deficit.
Just like the other farmers, Kasukuwere has not been spared from the challenges faced by the sector.
"In the past seasons we have been affected by the erratic supply of electricity and the theft of aluminium pipes which we use for irrigation," he said.
"If there is no electricity we are forced to use diesel to drive the generators for irrigation and this is expensive."
Electricity costs between US$700 and US$800 to irrigate a hectare of the crop per season which makes it difficult for farmers to break even.
A hectare of wheat is irrigated after seven days for eight hours before germination and after every 14 days for eight hours after germination till it is harvested.
This season at Mapunga Estates, 60 ha have been planted with at least 40 ha having already germinated.
Last year 90 ha were planted and an average yield of five-and-a-half tonnes per ha was realised.
"Our target for this season was 140 ha, but due to some challenges, we might end up planting 120 ha," said Kasukuwere.
"We have not yet finished removing maize from our fields as the moisture levels are still high and it is in these same fields we want to plant wheat.
"To circumvent some of the challenges, we have had to upgrade the type of equipment and farming practices we use on the farm.
"We have adopted the zero-tillage concept hence we do not have to disc the field after removing the maize and we have planters that allow us to apply seeds and fertilisers at the same time."
Kasukuwere said the high costs of production of the cereal were making it difficult for farmers to break even.
Last year private buyers were offering farmers between US$400 and US$450 per tonne while farmers were arguing that basing on the import parity price a tonne should be US$500.
"Our wheat is to be irrigated and the cost of electricity is high yet on the market we have to compete with wheat which is rain-fed that is produced in other countries," said Kasukuwere.
"As it stands it is a buyer's market because buyers can choose to import as it costs less than buying from locals.
"Farmers can however try and reduc
production costs by investing in machinery that helps a farmer cut the cost of labour."
This season, wheat farmers would have taken advantage of the anticipated rise in the price of the commodity on the international market on the back of challenges affecting major producers of the crop.
Freezing weather in the United States of America has raised fears of possible shortages, in supply, while Ukraine which supplies six percent of the world's wheat export market is currently faced with political instability.
Kasukuwere advised wheat producers to remain focused and not be discouraged by the challenges.
"Farmers should remain focused and understand the day is coming when the situation will change," he said.
"It is important to plan carefully, supervise their investment and when one borrows they should try by all means to repay the loan in order to allow for further assistance.
"Farmers should assess the market, know the crops to grow, plant, harvest in time, store crops properly and sell at the right time."
With more determined farmers like Kasukuwere, wheat production can indeed be turned around.