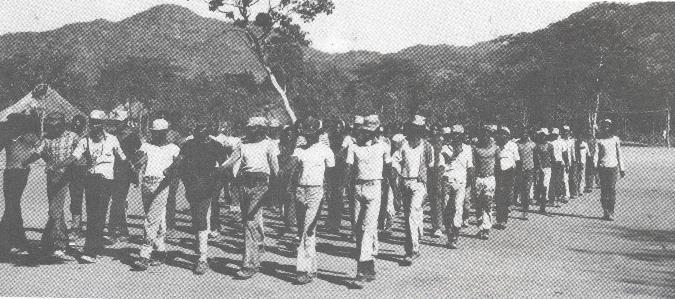 CLOSING the recently concluded ZANU PF Youth League Conference, President Robert Mugabe had no kind words for cadres involved in vote buying scams. Chiding both the bribers and the bribed, the President referred to these activities as 'rubbish' and the culprits as 'madhodhabhini'.
The vote buying allegations marred a platform that traditionally has been used to showcase emerging political talent, in whose hands we can entrust the future of the revolution.
Very sad indeed that seasoned politicians can seek to buy support of youths on the cheap.
ZANU PF has a strong youthful tradition of young men and women who decided to forego luxuries of family life in order to lead the process of emancipating us from colonial bondage.
The following examples from a few national heroes show the illustrious achievements of youths of yester year.
Robson Manyika.
Born in 1934 he joined the City Youth League at the tender age of 23 and by the time he was 25 he had already been elevated to a Committee member of the ANC. In 1961, at 27, Robson became Publicity and Organising Secretary of NDP.
He retained the same post at the formation of ZAPU the following year.
After serving a prison term for political activism he left for military training in the Soviet Union.
By the age of 35 he was already ZAPU's Chief of Staff entrusted with the task of building up the ZPRA guerilla army.
Which politician could have dared take his 'bag remari' to Robson?
Justin Chauke.
Born in 1947 he abandoned his primary education and left for newly independent Zambia as a teenager where he worked briefly as a driver before joining the liberation struggle.
At the age of 21 he volunteered for military training in Tanzania.
By the time he was 23 he was part of ZANLA cadres attached to FRELIMO.
At the age of 25 he became a member of the General Staff and was later elevated to the High Command while still in his 20s.
At 30 he was appointed to the ZANU Central Committee as Deputy Secretary for Transport and Welfare, a post he still held by the time he was 35.
A menacing record for any would be briber!
Rodgers Nikita Mangena.
Born in 1945, he distinguished himself as an academic genius at school.
At the age of 19 he decided to forgo a Rhodes scholarship in order to join the liberation struggle.
At 20 he became one of the earliest ZAPU cadres to volunteer for military training. By the time he was 26 he had become Commander of ZPRA under the Acting Commander-in-Chief, Jason Moyo.
At 29 he became ZIPA's Chief Political Commissar.
He was tragically taken away in a landmine explosion aged 33.
Which stronger heart and better brains could have bought Nikita for pieces of silver?
Ernest Kadungure.
He was born in 1942 and by the time he turned 20 he was Secretary of a ZAPU youth branch.
At 26 he joined the liberation struggle and underwent training in Tanzania.
By the time he was 29 he had become a Chief Instructor with ZANLA.
At 32 he had been elevated to a member of the General Staff and the High Command.
When he turned 35 he was a member of the ZANU Central Committee as Secretary for Education and Culture.
Ernest was certainly not that youth who could betray Zimbabweans for a few scuds.
Samuel Mamutse (Comrade Mayor Urimbo; Mutupo weZANU) was born in 1939. He joined the ZANU Youth League at its formation when he was aged 24.
At 29 he underwent military training under ZANLA in Tanzania.
At 33 he was part of the historic ZANLA guerillas that opened the north eastern offensive in 1972.
His illustrious record as a youth saw him appointed ZANU National Commissar in 1977.
Any would be briber would certainly have been in for a stern political education lecture.
George Nyandoro was born in 1926.
He became politically active whilst in his early 20s when he joined the British African National Voice Association and the Inter-Racial Association.
In 1955, when he was 29, he and three other nationalists, James Chikerema, Edson Sithole and Dunduza Chisiza formed the City Youth League as a platform to oppose the Land Husbandry Act.
At 31 he became one of the founders of the African National Congress under Joshua Nkomo.
In 1959, when he was 33, he and many other nationalists were detained at Khami and Sikombela under Emergency regulations.
He was clearly not the youth to forsake motherland for US dollar bills.
Jason Ziyaphapha Moyo, 'JZ'.
He was born in 1927.
He started his political career as a trade unionist in his early 20s.
In his late 20s he became a member of the Bulawayo Branch of the ANC, becoming its Chairman at the age of 30.
He went on to hold various executive positions in NDP, ZAPU and PCC.
By the age of 35 he had become ZAPU National Treasurer.
Isaac Mukusa (Sarudzai Chinamaropa) was born in 1947.
He joined the liberation struggle as a teenager.
In his early 20s he became part of the historic ZANLA team that opened the north eastern front and carried out the famous abduction of a Rhodesian land development officer (LDO).
At the young age of 30, he was elected into the ZANU Central Committee and also appointed into the High Command.
His revolutionary zeal would have sent chills down spines of would be bribers.
Edward Silonda Ndlovu was born in 1926.
In his early 20s, while studying in South Africa, he came under the influence of the ANC of South Africa.
In 1953, at the age of 27, he and others helped form the African Voice under the leadership of Benjamin Burombo.
At 31 he became Deputy Secretary General of the SRANC and a political prisoner and NDP Secretary by the time he was 33.
By the time he turned 35 Edward Ndlovu had become ZAPU representative to Egypt and the Arab states.
He would have been surely a no go area for bribe givers.
Are today's youths cut from the same cloth?