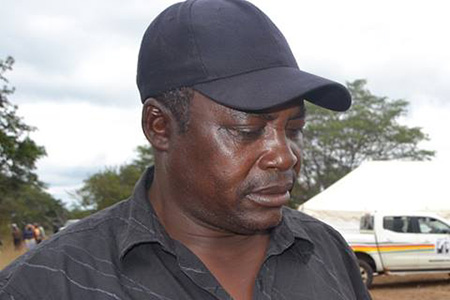 The story of Cde Luckmore Masarira alias Cde Chipere Chemunyati (pictured)
A FORTNIGHT after the gruesome attack of Kamungoma Base in Gutu, on May 14 1978, which resulted in the death of more than 105 innocent civilians, among them, defenseless women and children, we gathered at a base in Mawanga Mountain to plot a revenge attack on the enemy.
Three sections gathered at a base in Mawanga.
There was my section led by Cde Chris Hondo, Cde Mashoko's section and the other led by Cde Stephen.
At the meeting, Cde Chris Hondo emphasised the significance of an early revenge attack in order to awaken confidence to the povo.
The revenge attack would also liberate the zone which Rhodies were now claiming.
One of our comrades, Cde Tererai Mabhunu who had an innocent baby face was given the task for reconnaissance.
As a way of trying to win the support of the masses, Rhodies established clinics in their military bases and Cde Tererai, for the next three days, would enter Mupindimbi military camp with women from different villages intending to get medical treatment.
After visiting the camp, Cde Tererai Mabhunu narrated in detail the daily runnings of the camp to the commanders.
Loice Mapfumo, a survivor of the Kamungoma massacre, later received treatmentt at the Rhodie military camp clinic. She would be accompanied by Cde Tererai who, in fact, was on a reconnaisance mission.
Three visits were enough to get fundamental details.
A sketch plan was drawn and we learnt from Cde Tererai Mabhunu that there was a helicopter, seven Bedford military trucks, several mine detectors and an armoured car.
The mortar 82, mortar 60 and an RPG 7 were the biggest weapons we had for this attack. It took us an hour to walk to our target, about 10km from our base.
It was in May, hence there was a lot of cover and it was also very dark, which worked to our advantage.
This was going to be a surprise attack as Rhodies thought we had fled the zone after the attack of Kamungoma Base.
There was a mountain to the north of the camp where Cde Dzumbunu mounted his mortar 82, while Cde Chris mounted his equally dangerous mortar 60. After the mounting of the big weapons, we took strategic positions and waited for the instruction to fire from Cde Chris Hondo who commanded the attack.
Since we took positions on the mountain, the Rhodesian camp was underneath and we could clearly see the whole camp since it was electrified.
Rhodesian soldiers were relaxed and some were even dancing.
They were drinking and smoking as well. The first shot took long to be fired, but I had no choice; war needed discipline and dedication.
Cde Chris Hondo took the best shot after he was convinced we were all in our positions.
Although we caught the enemy by surprise, our attack had to be as swift as possible so that we would get enough time to disappear before we regrouped later at an agreed gathering point.
We relentlessly fired at the camp for about 30 minutes and the whole camp was up in smoke.
We never gave the enemy any chance to return fire.
The enemy had always seen the camp as their peace zone, the comfort unit where they only met villagers and the sick. I was delighted when I saw the helicopters and the trucks ablaze and up in smoke.
We were then ordered to cease fire.
We waited for about 20 minutes before we retreated and the only thing we heard from the camp were screams of the injured Rhodies.
We then swiftly moved to our gathering point which was about 15km from Mupindimbi Military Camp.
Since we did not move together in large numbers, it took us about three hours to regroup.
We celebrated and thanked the spirits upon realising that we all came out alive without even one casualty.
Our collaborators came to the base late afternoon the following day with good news.
Mupindimbi was destroyed and all military vehicles were burnt to ashes.
They also told us two Bedford trucks which came to ferry the corpses of the Rhodies were blown up by landmines hence three helicopters finally came to ferry their dead.
I was happy because we successfully managed to revenge the gruesome deaths of innocent villagers and liberated the zone .P
Rhodesians never set foot in Mupindimbi again.
Few Rhodie survivors of Mupindimbi, we were told, were transferred to Bhasera, among them was the sellout, the Rhodesian African soldier who sold Kamungoma Base.
We then planned to launch another attack to totally liberate Gutu district.