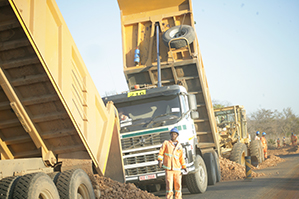 THE most interesting revelation coming from the recent flurry of activities by foreign investors is how insignificant the lie that nothing good comes out of Zimbabwe has become.
The lie, often laden with malice, was seen as a direct response to the country's land reform and resettlement programme.
Now the lie is again being spread as a result of the ongoing indigenisation programme which seeks to bring the economy into the hands of the majority.
It is important to note that while foreign investors are welcome with open hands, the thrust of the indigenisation programme must never be lost on both the country's leadership and the majority.
This is why in previous times acres of space would be dedicated to responding or negating those false and alarmist prognosis of a 'sorry' state of the economy.
Last week provided a sobering reminder to those prophets of doom that Zimbabwe is still very much in the game.
The US$200 million investment made by the Atlas Mara Co-Nvest in the country is a significant statement.
Of interest is the fact that this is the biggest such deal in Zimbabwe since the country switched to the multi currency regime in 2009.
Government has been making efforts to boost an economy still smarting from the debilitating effects of illegal economic sanctions imposed on the country by the West over the land reform and resettlement programme.
It should be emphasised that Atlas Mara Co-Nvest is not one of those fly-by night investors; this is a high profile grouping of investors with international reputation.
The sanctions, besides severely impacting the economy also hit the country badly with a negative perception which put a huge dent on its efforts to attract investment over the past decade.
The ongoing indigenisation and economic empowerment programme which compels foreign owned companies to cede 51 percent of their shares to locals was said to 'scare' away investors.
But the terms of the Atlas Mara Co-Nvest deal will no doubt put to rest these 'fears'.
"They should consider this: US$500 million will be invested in Zimbabwean operations over the next five years at a rate of US$100 million annually. Further, and more immediately, Zimbabwean shareholders will be paid US$40 million in cash and US$ 25 million in Atlas Mara shares," reads The Herald editorial in part.
"This is taxable income, which means ZIMRA (the country's revenue collection agency) benefits, and this is money that is coming into Zimbabwe, which means improved liquidity.
"It also means the economy gets a stronger, better-capitalised bank with international leverage and local ability to extend lines of credit to our businesspeople here."
While Zimbabweans were still basking in the glory of the Atlas Mara mega deal, on Saturday they woke up to even more sweeter news that Government had received overwhelming responses from companies interested in constructing the country's major highways under the Public-Private-Partnership agreement.
The country's roads are in bad state and the coming in of these investors will boost efforts to revive the country's infrastructure.
This is in line with Government's economic blueprint, the Zimbabwe Agenda for Sustainable Socio-Economic Transformation (Zim ASSET) which identifies infrastructure rehabilitation and development as one of the key enablers of economic development.
Out of the 15 projects advertised by Government in December last year, 13 received several bids.
Transport and Infrastructural Development Minister Dr Obert Mpofu told the media that the responses were an endorsement and expression of confidence in Government's efforts.
To fully exploit the projects, Dr Mpofu said, an inter-ministerial committee had been set to assess the bids.
The Harare-Chirundu road received 12 bids while eight investors are eyeing the Harare-Nyamapanda.
This is just a tip of iceberg as more positive developments were to come this week.
A recently brokered deal that will see Zimbabwe exporting fresh farm produce to Holland was put to finality when Dutch Ambassador to Zimbabwe, Gera Sneller met Acting President Joice Mujuru on Monday.
The Dutch overtures will definitely thaw relations with Zimbabwe which had frozen as a result of Harare's decision to take back its land from white commercial farmers.
Netherlands used to be one of Zimbabwe's biggest markets for horticulture products.
Alberts Hiyn Supermarket will buy produce from Zimbabwe.
"Our intention is to foster economic relations that will be good for Zimbabwe and the Netherlands. That will also create jobs and improve Zimbabwe's economy," Ambassador Sneller told the media.
"We are using Zimbabwe to grow peas for export into the European Community.
With such activities taking place in an economy perceived to be 'dead', there can only be reasons for Zimbabweans to start believing again.
The future looks bright.
Let those with ears hear.