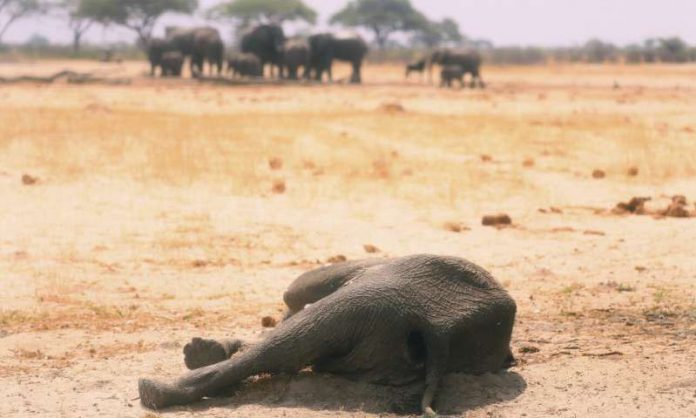 By Tafadzwa Masango
WITH the end of major international events on the annual calendar, the fake 'abductions' suddenly came to a halt and Zimbabwe was no longer worthy the scrutiny of the global media.
They moved on to the next story.
Depending on which side of the fence you sit, Zimbabwe is back in the news — fortunately or unfortunately.
Over the past week, the story of Zimbabwe's dying elephants has been a major story.
The who-is-who in the media have trekked to Zimbabwe to document and report on this unfortunate turn of events.
The narrative has been uniform — elephants and their calves are dying as water points have run dry.
Some are dying at the dry water points while others are getting stuck in the mud in what used to be massive watering holes. Pictures of carnivores feeding on the carcasses of dead elephants, mothers standing over their dead calves are published to show just how dire the situation is.
More and more wildlife is roaming into human settlements in search of food and water.
Zimbabwe is experiencing a drought and the National Parks and Wildlife authorities are overwhelmed.
Special mention is given to the small groups trucking bales of hay to elephants in some parts of the country.
But this is just like trying to use a finger to plug a leak on Lake Kariba's Dam wall.
How did we get to where we are today?
Earlier this year, Zimbabwe Botswana, Namibia and Zambia demanded the right to sell its stockpile of ivory to raise money for conservation.
Southern African nations have been calling for the global ban on the trade in tusks to be relaxed so that they can raise funds to cater for, maintain and protect their growing populations of wildlife.
It is estimated that Zimbabwe's decades-old hoard of ivory is worth around US$600 million and, if sold, can go a long way in plugging funding gaps for game reserves.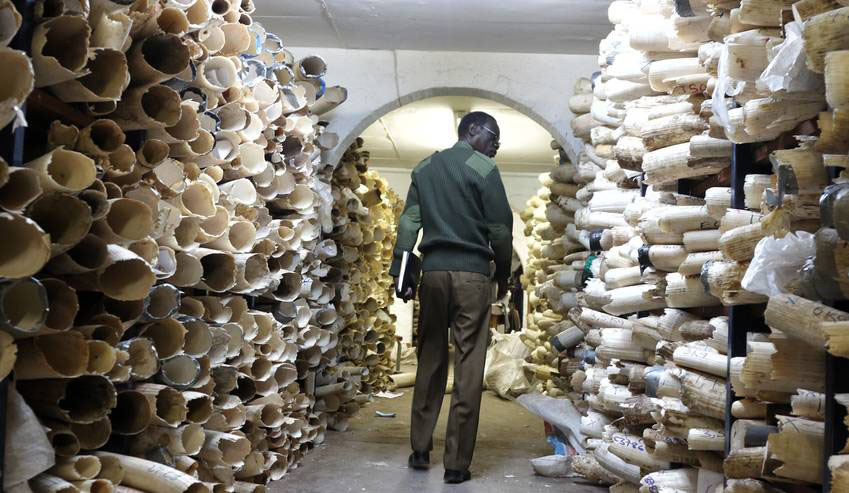 Zimbabwe has an elephant population of around 85 000, which is nearly double it's holding capacity.
At independence, Zimbabwe had a total of 40 000 elephants.
In June 2019, at a UNEP wildlife economic summit, President Emmerson Mnangagwa said selling the elephant tusks and rhino horns would enable the nation to fund conservation efforts for 20 years.
The UN Convention on International Trade in Endangered Species' (CITES) ban on international ivory trade has done more harm than good within the SADC region.
The ban on global ivory trading among member-states was intended to reverse a sharp decline in the African elephant population, purportedly due to increased levels of poaching, but it has failed to serve its purpose.
Trade bans and stockpile destruction have a perverse effect of reducing supply, increasing prices and therefore incentivising further poaching.
We have seen Western countries applauding those countries that burn their stockpiles — such actions do nothing for the locals expect that their governments get pats on the back.
Zimbabwe has a right to sustainably use all its natural resources. Money from the legal trade of wildlife products can be used to finance the protection of elephants and their habitats as well as provide socio-economic benefits to communities that bear the costs of living with elephants.
In 2008, Botswana, Namibia, South Africa and Zimbabwe were allowed 'one-off' auctions to sell ivory from Government-managed stockpiles to Japan and China under very strict conditions.
Revenue from the sales was used to develop poor rural communities who live side-by-side with elephants.
How can the country be expected to cope with the growing elephant population when it is burdened with the yoke of sanctions; its hands are tied by CITES.
Finally, how can it channel its meager resources to the conservation of elephants when it has millions of citizens who are food insecure because of the recurring drought and lack of aid?
In May 2019, Botswana, which has the largest elephant population in Africa (130 000), lifted its five-year ban on elephant hunting, citing 'high levels of human-elephant conflict'.
Hypocrisy of the media
One astonishing fact from the stories about Zimbabwe's dying elephants is that, suddenly the media is reporting about how Zimbabwe has been experiencing a recurring drought.
The very people who, over the past year, have blamed food insecurity in the country on alleged Government mismanagement and the Land Reform Programme, have now made a volte-face and are talking of how the country has been affected by the El Nino-induced droughts in the past two seasons.
Some have even gone as far as to blame Government for the depreciated water levels in Lake Kariba, as though Government has some magical wand that it can wave around to make the rains fall.
The stories of Zimbabwe's dying elephants are nothing more than another attempt to showcase the racist notion that Africans cannot be trusted to look after anything.
CITES has been used to impede the sustainable use of wildlife under the guise of protecting the very elephants that are now dying in their hundreds.
By shutting the door on the legal trade of wildlife products, the West, through CITES, once again seeks to control African countries by placing itself as a gatekeeper.
That a villager in Hwange, who daily experiences the realities of the human-wildlife conflict, has little say in how this conflict should be resolved while men and women in far off lands have a greater say in how Africa manages its wildlife is not only ludicrous, but exposes the patronising tendencies of our former colonisers.
The media turns a blind to the unjust systems and only gives the 'voiceless' voices when it suits the West's agenda.
In this case, elephants have a much greater voice that the millions of people in the Southern African region who are facing hunger due to yet another year of the El Nino-induced droughts. Dying elephants bring in more money for animal rights groups and 'conservationists'.
This money is used to propagate and support regulations that make it difficult for Africa to benefit from the trade of its wildlife.
Pity the politician who has to return to his constituency and inform that, yes, it is illegal to hunt and kill elephants, even if those elephants have grown so much in number that they are now encroaching in the villagers' gardens and falling down their wells in search of water.
Additionally, even if those elephants die due to the drought, all the villagers can do is watch them rot and their Government cannot sell the hides or tusks of these creatures that have died under mother nature's cruel hand.