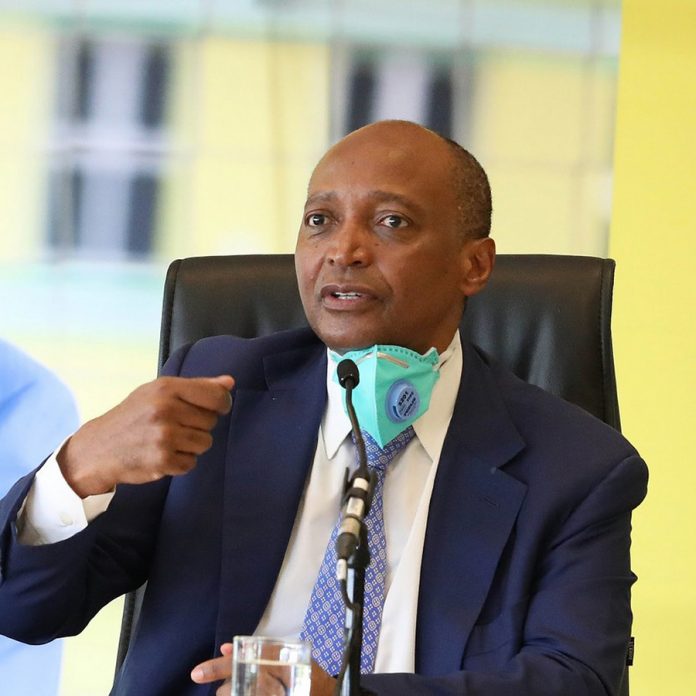 By Anesu Chakanetsa
THE hot stick of African football presidency has finally landed in the most southern part of Africa, near where the beautiful country of Zimbabwe lies.
The maverick Dr Patrice Motsepe comes to the throne, finally bringing an end to the hullabaloo by different media outlets about whether what was happening was right or not.
The 59-year-old Motsepe, ranked by Forbes Magazine among the richest men on the continent, with a net worth of US$2,1 billion, was voted as the new head of the Confederation of African Football (CAF) during a CAF conference held in Rabat, Morocco.
This also comes after an appeal by CAF's former president Ahmad Ahmad of Madagascar of trying to illegitimise his impeachment from office as president of CAF had been relegated, and all other candidates have reportedly endorsed Motsepe.
Ahmad was initially banned in November after being accused of embezzlement, opening the field for new leaders, with Motsepe proving a surprise candidate.
Motsepe was running against Jacques Anouma of the Ivory Coast, Augustin Senghor from Senegal and Mauritania Football Federation president Ahmed Yahya, but the prospect of an intriguing contest ended in a deal that saw Motsepe take the presidency and Senghor and Yahya appointed vice-presidents.
Anouma will be a special advisor.
In his opening speech, Motsepe underscored the need of a united Africa, where the game of football will change rapidly for the better.
Said Motsepe: "Im very excited.
There is a great deal of urgency of getting things done.
There is going to be a lot of work and a lot of running.
We have to make sure that African football is not just competitive but globally successful.
Africa spends millions of dollars every year paying TV rights of leagues outside Africa.
There is need to build to our own product and we will succeed."
The rise of Motsepe to the CAF throne carries with it so much permutations and expectations, especially by those whose football has largely been marginalised by the likes of Issa Hayatou from Cameroon.
Among those countries bullied time-and-again by the ambitious charlatans of West and North Africa are Zimbabwe, Kenya, Ethiopia, Zambia and South Africa where Motsepe comes from.
The billionaire was born Patrice Thlopane Motsepe on January 28 1962 and grew up to become a businessman at a mine, owning a small spaza (tuckshop), until he became one of Africa's richest men.
He learnt basic business and mining principles from his father and went on to study for a Bachelor of Arts degree with the University of Swaziland and a Law degree with Witwatersrand University.
He specialised in Business Law and joined several law firms until he partnered with other businessmen to form AngloGold.
After several dabbles in gold mining, he established Mamelodi Sundowns in 2003, a team which gradually grew in prominence to become CAF Champions league victors in 2016.
In the business world, Motsepe has proved that he can make something out of nothing; like how he turned Mamelodi Sundowns into an African giant in a few years.
But in African football, his endorsement as president of CAF puts him in a tenuous position.
CAF has a rich history of poor, unfair business practices.
All of recent CAF structures and philosophies have been festooned by the one Hayatou who made sure that West and North Africa took turns to host the Africa Cup of Nations and other major CAF tournaments.
Hayatou took over the throne from Ydekachnew Tessema in 1988 and was voted out in 2017, paving way for Ahmad.
Save for Angola and South Africa, no other Southern African country has hosted the tournament.
The next three editions are set to be held in Cameroon (2021), Guinea (2023) and Cote D'Ivoire (2025), if CAF is to stick to that plan.
Not only West and North Africa have boasted hosting the tournament, they have also seen great infrastructural development as well as having a bigger chance to win the trophy.
Only two Southern African countries — South Africa (1996) and Zambia (2012) — have scooped the AFCON gong.
Zimbabwe too, got a big humiliation when it's bid to host the tournament in 2000 was terminated in favour of Nigeria.
The reasons for that were largely political.
Zimbabwe successfully hosted a wonderful edition of All Africa Games in 1995.
Under Hayatou, Southern African countries have been subjected to insipid decisions and bullying that has always given North and West African countries an advantage.
For instance, Memory Mucherahohwa, the former Dynamos captain, was headbutted during warm-up to CAF champion's league final in 1998 between Dynamos and Asec Mimosas.
Obviusly, Hayatou, who watched the drama from his VIP stand, ditched Dynamos' plea in favour of his fellow West African brothers from Cote D'Ivoire.
And several times have Southern African teams complained of malodorous hospitality by West and North African teams; some that went as far as sending 'ladies of the night' and funky people to disturb the visitors' peace.
Orlando Pirates once had their journalist's cameras confiscated in DRC when they wanted to play a champion's league game.
Recently, Kaizer Chiefs were denied VISA cards to enter Morocco for a champion's league game against Wydad Casablanca.
Even when Ahmad Ahmad of Madagascar took over the throne in 2016, such CAF's ways of doing things are still persisted.
Will Motsepe, known for his cool business practices, quell the CAF fire?
Southern and East Africa is waiting eagerly to see major tournaments being hosted in their respective countries.
They are hoping to see an end to this highly mephitic behaviour by West and North African teams.
Motsepe said something about Africa building its own product in his opening speech, but building Africa's product starts with stopping migration of talented footballers to European national teams like Belgium, France and England.
There is competition when all nations, including those so-called marginalised, are encouraged or given a chance to host big tournaments.
Motsepe has a lot on his new desk.