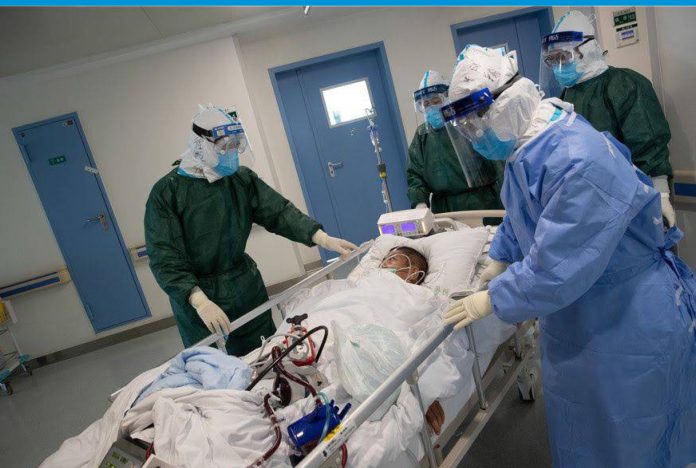 COVID-19 lockdowns are being re-imposed across the world as cases surge past 13 million and the death toll nears 600 000.
According to figures from Johns Hopkins University, COVID-19 cases soared by more than a million globally in just five days as the numbers continue to accelerate from week to week.
The total global case number surpassed 13 million on Monday this week, growing by 1 061 600 between July 8 and July 13.
Much of these numbers are being driven by large scale outbreaks in the US, India, Brazil, and South Africa — who, alone, account for more than half of the global daily figure.
Other South American nations such as Mexico, Chile and Peru are also seeing surging figures.
While some countries that were hit early in the outbreak have managed to contain the virus, the number of cases globally has been accelerating fairly steadily.
Cities and states the world over have been forced back into lockdown in a bid to slow spread of the virus.
Lockdown returns
Nations that had eased their lockdowns, such as in the UK, China, Germany, Australia, Portugal, Philippines, US, India and Spain, have re-imposed tough measures to control new waves of the pandemic.
California has closed all bars in the state and ordered restaurants, cinemas and museums to halt indoor operations, reversing the reopening of these venues in mid-June.
Hong Kong imposed new social distancing measures including making masks mandatory on public transport, limiting the size of gatherings to four people and closing Hong Kong Disneyland less than a month after it reopened.
In Manila, in the Philippines, a quarter of a million people are expected to be put back under lockdown later this week to try to slow down the spread of infections.
Face coverings will become compulsory in shops and supermarkets in England from July 24 and the police can issue £100 fines for those who don't comply.
In Africa, Madagascar, South Africa and Zimbabwe have re-imposed tighter lockdown measures to contain the spread of the virus.
The Zimbabwean Government this week announced stiff lockdown measures after the country's COVID-19 cases surged beyond 1000 with fears of more infections.
The authorities resolved to tighten the COVID-19 lockdown measures and enforce localised restrictions in the hotspots of Harare and Bulawayo.
"Any further opening of the economy has been halted and the re-opening of schools shall be deferred pending a review of the situation, while the writing of public examinations continues," said Minister of Information, Publicity and Broadcasting Services Monica Mutsvangwa, who advised that President Emmerson Mnangagwa will soon address the nation to let people know of the full measures which will be implemented.
Government initially imposed a rigid lockdown on March 30, which has been gradually eased to allow for the reopening of strategic sectors of the economy.
Lockdown, relax, repeat
Though there's no strict definition of a lockdown, it refers to the controls imposed by governments to restrict the movement of people in their communities.
It's often achieved through a combination of police presence and applying public health regulations.
It can be implemented partially, progressively or fully.
The latter is called 'hard or total lockdown' when the freedom of entry to, and exit from, either an entire building or geographic area is prohibited or limited.
In many countries, after weeks or months of hard COVID-19 lockdown restrictions, governments began to gradually relax the rules, allowing certain sectors to resume operations and social interaction to take place at some level.
According to science experts, after a lockdown, the majority of the population remains at risk of infection without a vaccine.
So as restrictions ease, cases increase again leading to a pattern of lockdowns, relaxation and renewed lockdowns
No shortcuts
World Health Organisation (WHO) director-general Tedros Adhanom Ghebreyesus this week warned there could be no return to the old normal in the foreseeable future.
Speaking at a media briefing in Geneva, Switzerland, he averred that there were no shortcuts out of this pandemic.
"We need to reach a sustainable situation where we have adequate control of this virus without shutting down our lives entirely, or lurching from lockdown to lockdown; which has a hugely detrimental impact on societies," said Tedros.
"I want to be straight with you: There will be no return to the 'old normal' for the foreseeable future. But there is a roadmap to a situation where we can control the disease and get on with our lives. But this is going to require three things:
First, a focus on reducing mortality and suppressing transmission.
Second, an empowered, engaged
community that takes individual behaviour measures in the interest of each other.
And third, we need strong government leadership and coordination of comprehensive strategies that are communicated clearly and consistently."
Counting the losses
The novel COVID-19 pandemic has put the world at a standstill, affecting major operations, leading to an industrial catastrophe.
Health workers at the frontline of the COVID-19 outbreak response are exposed to hazards such as radiation, when they use radiation sources in diagnostic radiology and interventional procedures using X-rays, nuclear medicine and radiotherapy.
In an interview with The Patriot, chief executive officer of Radiation Protection Authority of Zimbabwe, Justice Chipuru, said it is vital that protective measures are put in place for radiation to protect the health of workers and other essential operators.
"We are using innovative methods to adapt to the changing circumstances to ensure safety is not compromised," said Chipuru.
He said the regulatory body has also addressed procedures involved in the physical inspections of radiation sources by safety related personnel.
"Physical inspections have been replaced by remote oversight through review of evidence-based documentation and virtual communication with trained Radiation Safety Officers (RSOs) stationed in each organisation."
Lockdowns also have many serious repercussions, including a severe adverse impact on the economy.
French Prime Minister Jean Castex has ruled out another total lockdown arguing that its economic and human consequences were disastrous.
Locking down a given country can cost up to three percent of GDP per month, according to UBS Global Wealth Management.
According to United Nations Development Programme (UNDP)'s latest assessment report Zimbabwe's economy recorded a 6,5 percent decrease in 2019 and the World Bank projects a further contraction of five to 10 percent in 2020 as a result of the pandemic.
And the latest edition of the State of Food Security and Nutrition in the World published this week reports that almost 690 million people went hungry in 2019.
The report estimates that due to the impact of COVID-19, 130 million more people may face chronic hunger by the end of this year.
In the education sector, for nearly 1,1 billion learners in 146 countries it is a lost year, says the Global Partnership for Education.
"Although many countries have adopted distance learning mechanisms, but the results are far from ideal as distance learning courses are not accessible to the majority of the learners," said educationist Enitah Dube.
"This is mainly in the case of children living in remote rural areas that do not have access to internet, TV and sometimes not even a radio.
"Thus, in many African countries, distance learning has been so far rather hypothetical."
Many thus ask, for how long should lockdowns last?
The Grattan Institute has argued lockdowns should continue until there are no more active COVID-19 cases in the community – and after that, should remain in place for another two weeks.
It seems lockdowns are not going away anytime soon.