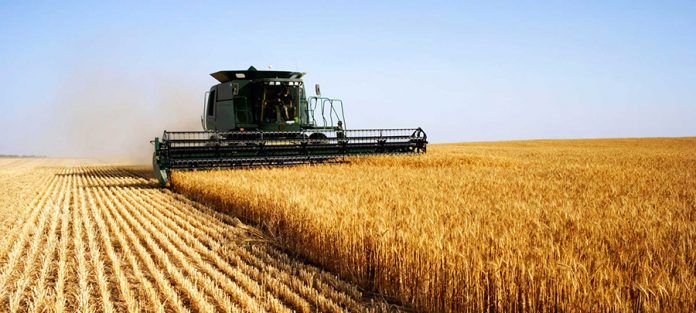 THE Permanent Secretary in the Ministry of Lands, Agriculture, Fisheries, Water and Rural Development, Dr John Basera (pictured, far right), last week announced that Zimbabwe is now food secure.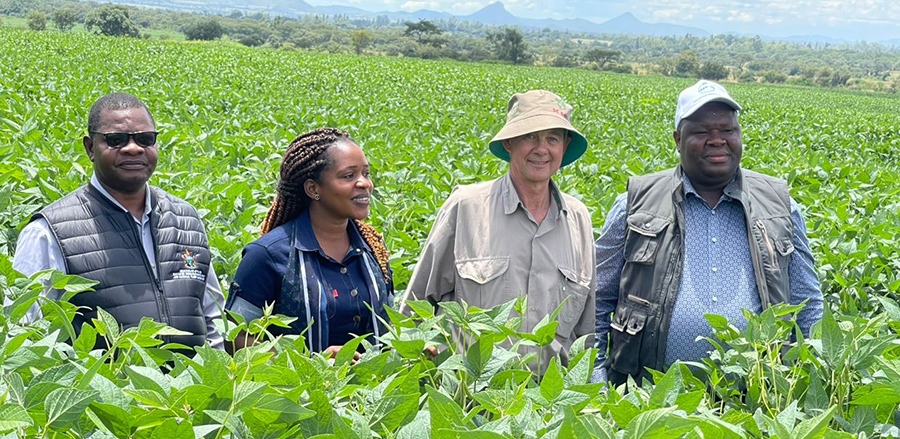 However, this reality does not sit well with the opposition and their handlers because it does not play to their script.
The mantra: Nyika inovakwa nevene vayo/Ilizwe liyakhwa ngabanikazi is anathema to the opposition for it debunks the notion that salvation comes from the West.
Last year. Zimbabwe notched a record 375 000 tonnes of wheat and 2, 7 million tonnes of maize.
The country requires 360 000 tonnes of wheat per annum and this was the country's biggest harvest since 1966, hardly a year after the opposition CCC's new found darling, Ian Douglas Smith, announced his oppressive UDI during the ugly and painful days of Rhodesia.
"Yes we are food secure because in the recent past, I have seen applications for permits to import seed, that is maize seed and traditional grains," said Dr Basera in his address during the Long Service Awards ceremony at SEEDCO's Mt Hampden offices on Wednesday last week.
"We started to operationalise the Agriculture Recovery Growth Plan and we managed to score 2, 7 million tonnes of maize during the 2020-21 cropping season. So, generally we are food secure and I know SEEDCO contributed 90 percent of seed and this was a big score.
We recorded 375 000 tonnes of wheat last season and, for the first time since 1966, we are flour self-sufficient and that is incredible."
Not so for the opposition which detests self-sufficiency, for defficiency and chaos validates their existence .
Interestingly, the opposition has become masters at opposing the change they claim to be championing in the country.
The only fundamental change that a country like Zimbabwe, whose birth was watered with the blood and sweat of the masses, can have, and has effected, is giving the people unfettered domain over their land and natural resources.
This is a story that we will never tire of telling until the opposition fully grasp the basic meaning of independence and freedom.
By attaining food self-sufficiency, Zimbabwe has made significant steps towards feeding what will certainly be a hungry world in the very near future.
Sooner rather than later, the world will find itself relying on the efforts of the same people who are being maligned by the opposition.
A new world order where every country makes a contribution to global development through utilisation of its resources, spurred by the globe's studious resistance to the West's archaic and fast dissipating unipolar world thrust, has been steadily rising from the woods in recent times.
There has never been any doubt about the fact that, for countries to develop, they have to take charge of their destiny by placing ownership and control of the means of production into the hands of the majority.
The historic land reform of 2000 in Zimbabwe aptly speaks and feeds into that reality.
And if ever the claim that Western countries, led by the abrasive Uncle Sam's hegemonic control of the world, would continue to linger unabated sounded borderline ridiculous, it looks downright comical now as Russia's ongoing special military operation in neighbouring Ukraine is beginning to shift the tide towards the much-needed and long-awaited birth of a multipolar world where countries like Zimbabwe that have taken control of their land and resources stand to benefit from the new world order.
For so long it looked like a certainty that the West would remain the big bully of the world.
But the emergence of China as a global economic powerhouse and Russia's steadfastness in repelling NATO's aggression has stopped the bully.
Western economies are in turmoil, their people are livid while demand for affordable food and commodities, all found in Zimbabwe and the so-called developing world, is on an unstoppable rise.
For all their bravado, the West is beginning to come to terms with the futility of their interference in the Russo-Ukraine conflict.
They now want the world to intercede on their behalf to salvage their pride over a war they have stoked and perpetuated on behalf of their out of sorts puppet Volodymyr Zelenskyy.
For all their funding and support they have availed to Zelenskyy, Ukraine is falling, so too are Western economies and their selfish agenda of controlling the world.
Crucially, the world now knows better.
Afghanistan, Syria, Iraq, Iran, Libya, Vietnam and Zimbabwe have taught the world not to be dragged into the West's mess.
The West thrives on dragging everyone into their senseless destabilisation of peace in the world.
And history is steadily hurtling towards a future where each and every country can finally assert its independence without undue influence from the West — India, China, Iran, Zimbabwe, Rwanda and South Africa, among many more other countries, have told Uncle Sam to his face to go and hang.
Zimbabwe can now proudly prime itself to feeding a West that is being haunted by its reckless foreign policy.
Let those with ears listen.