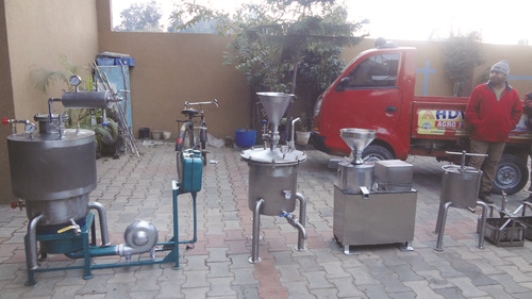 FARMERS, organised groups of youths and women, given access to land, become engaged in the production phase of the soyabean value chain.
The same groups or others can engage in processing soya-base foods while yet others set up livestock production enterprises that utilise the feeds produced.
These would allow local affordable feeds to be readily available for poultry, piggery, fishery and dairy projects.
Small to Medium Enterprises (SMEs) can be created by Zimbabwean youth, women and other business people to produce the above-mentioned range of food products.
Soyabean can be processed into 'fresh' and 'sour' soya milk products at home.
By training local women and youths, in home processing methods, locals can be empowered to produce and market e.g. in schools, a variety of soya milk products.
Soya milk processing equipment, which is currently imported, can be locally manufactured to satisfy the needs of small to medium enterprises.
The training model used by Kwekwe Technical College, where qualified technicians, are trained to design, manufacture and commission prototype industrial equipment to earn technology degrees, should be adopted for the soyabean value chain.
Let us look at how soyabean can be integrated and used to stimulate Zimbabwe's economy to meet Zim-ASSET goals.
We have indicated that farmers should adopt soyabean as a major cash crop.
This is like hitting more than two birds with one stone.
The farmer has a viable valuable easy to grow cash crop.
Soyabean improves soil fertility, thereby lowering production costs and improving sustainability of the cropping enterprise.
Employment is created for thousands engaged in production on the farms. Business is created for transporters and their staff who ferry the soyabeans from farms to warehouses and factories.
Suppliers of soyabean production inputs (seed, fertilisers, chemicals) have a market for their products.
In fact, this 2013/14 cropping season has seen a marked increase in distribution outlets run by indigenous persons as company representatives or in their own right, selling soyabean herbicides.
Soyabean processors extract vegetable oil (20 percent) from soyabean and use the soya meal to manufacture a wide range of food and other industrial products. Large oilseeds processors like Olivine Industries and Surface Investments have in the past closed their plants due to shortage of soyabeans.
The resultant reduced industrial capacity utilisation has left many workers jobless. Export earnings and contributions to the fiscus are reduced each time processing companies scale down due to shortages of soyabeans for processing.
The argument is that local production of soyabeans as an industrial raw material will allow more indigenous players to operate within the value chain while traditional large-scale players will still provide employment and marketable goods and services.
Poultry and pig production have become popular projects among indigenous black Zimbabweans.
Soyabean provides the main ingredient, soya meal protein, for the formulation of chicken and pig feeds.
Chicken and pork are high value products that meet the local demand for high quality protein and the supply of export quality products for regional and international markets.
Clearly the soyabean value chain offers opportunities for indigenous black Zimbabweans to actively participate in the economy.
In the agricultural sector, soyabean is a viable cash crop with good returns on investment.
Even resource-poor rural communities can be mobilised to produce soyabean to underpin family food and income security.
That is the responsibility of agricultural universities, colleges, research and extension departments in the public and private sectors.
Most importantly, the market for soyabean both local and international is thriving thanks to a national and regional deficit in soyabean production.
Soyabean is an industrial raw material.
Current shortages are met through imports from as far as India, Brazil and Argentina, bleeding the economy of much-needed foreign exchange reserves.
The trick is to engage more Zimbabwean farmers in soyabean production.
This will increase industrial capacity utilisation, securing jobs and ensuring availability of manufactured goods for the domestic and export markets.
This 2013/14 cropping season has seen an increase in the area planted to soyabean especially in Mashonaland West.
The expectation is that farmers will sell and make money from the raw beans. Small to Medium scale enterprises should tap into this local supply and process the beans into various food and livestock feed products.
Alternatively, soyabean farmers may have their soyabeans toll-crushed by larger enterprises.
The vegetable oil is processed for cooking while the soya meal is used to make soya chunks, soya mince and other protein n-rich foods.
Soya meal is the main ingredient mixed with maize and vitamin and salt supplements to produce various stock feeds.
Small to medium scale dairy, poultry and piggery projects will use these locally produced feeds.
A viable local industry will grow.
These developments, already occurring in parts of the country illustrate the strategic role of soyabean in driving Zim-ASSET.
In the next article we shall discuss some constraints to adoption of soyabean by black farmers.
After that we shall look at how farmers handle their crops in the last part of the growing season.